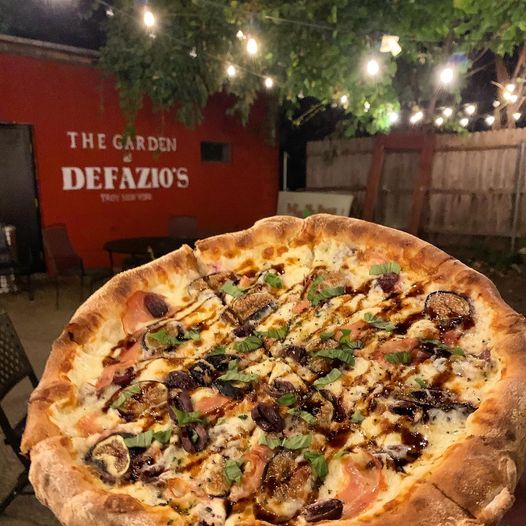 Rocco DeFazio puts his heart in to everything he does
Whether it's the signature DeFazio's pizza that is a Troy treasure, or the annual stickball tournament for kids at Joseph's House, Rocco doesn't do anything half way.
So it was not too much of a surprise when Rocco reached out to Unity House with an idea for pizza that would both help victims of domestic violence and celebrate the restaurant's 70th Anniversary.
Rocco's parents, the late Anthony and Josephine DeFazio, started the Italian restaurant on one of the most quintessential streets in Troy 70 years ago. Rocco and his adult children now run the restaurant, which has expanded to the Troy Farmer's Market with a satellite location at the Albany Distilling Company across the river. Each generation seems to add their own spice while sticking to the original recipe. The result is timeless classics re-invented again and again.
Pizza Fundraiser for October's Domestic Violence Awareness Month
To honor the legacy of his parents, Rocco is celebrating with a special pie, one of his parents faves: a white pizza with fresh figs, prosciutto, Kalamata olives, topped with basil and balsamic glaze. All the proceeds from the sale of this pizza will go to The Unity House of Troy Domestic Violence Services Program, a program the DeFazio family has long supported. Safety and new beginnings are a cause they have long championed.
In creating his unique fundraiser, Rocco DeFazio manages to celebrate an historic milestone while helping neighbors. You can order the special 70th anniversary pie from DeFazio's and a portion of the proceeds will benefit the domestic violence services program. If you aren't local and can't order a pie or just want to make a donation directly, you can do so securely via our donation page. Or drop a check in the mail to Unity House, 2431 6th Ave, Troy, NY 12180. Please don't hesitate to call with questions, or if you want to tell us how amazing the pizza is: (518) 274-2607 x4133.
Be forewarned: pizza this good is a highly sought after item, especially in light of this recent review. If you order pizza, or any other deliciousness from the DeFazio's menu, be patient. Something this good takes time, but it's worth the wait!
Many thanks to Rocco and his crew for all they do- and for all the delicious pizza!
Purple: the signature color of Domestic Violence Awareness & Prevention
When you wear the color purple (or put luscious purple figs on a pizza), you are helping to shine a light on an important issue. You are also serving as a beacon of hope for those in the community who may be suffering in silence. You may see lots of purple in the month of October. Please let it prompt conversations about the topic of intimate partner abuse and of resources available. A reminder that Unity House has experts on staff. If you would like a speaker to engage with your youth group, book club, or other gathering, please consider reaching out. Know that help is always available.
Shhhhh!
Please DO NOT blab all over the internet about the mouth-watering deliciousness of DeFazio's pizza. If you post about the sublime chewiness of the crust, the amazing sauce, or how they make pizza that has the perfect ratio of ingredients, too many people will come and demand this incredible pizza. Let's just keep it amongst ourselves. If anyone from outside the Capital Region asks about DeFazio's pizza, please just shrug and say, 'Never heard of it.'