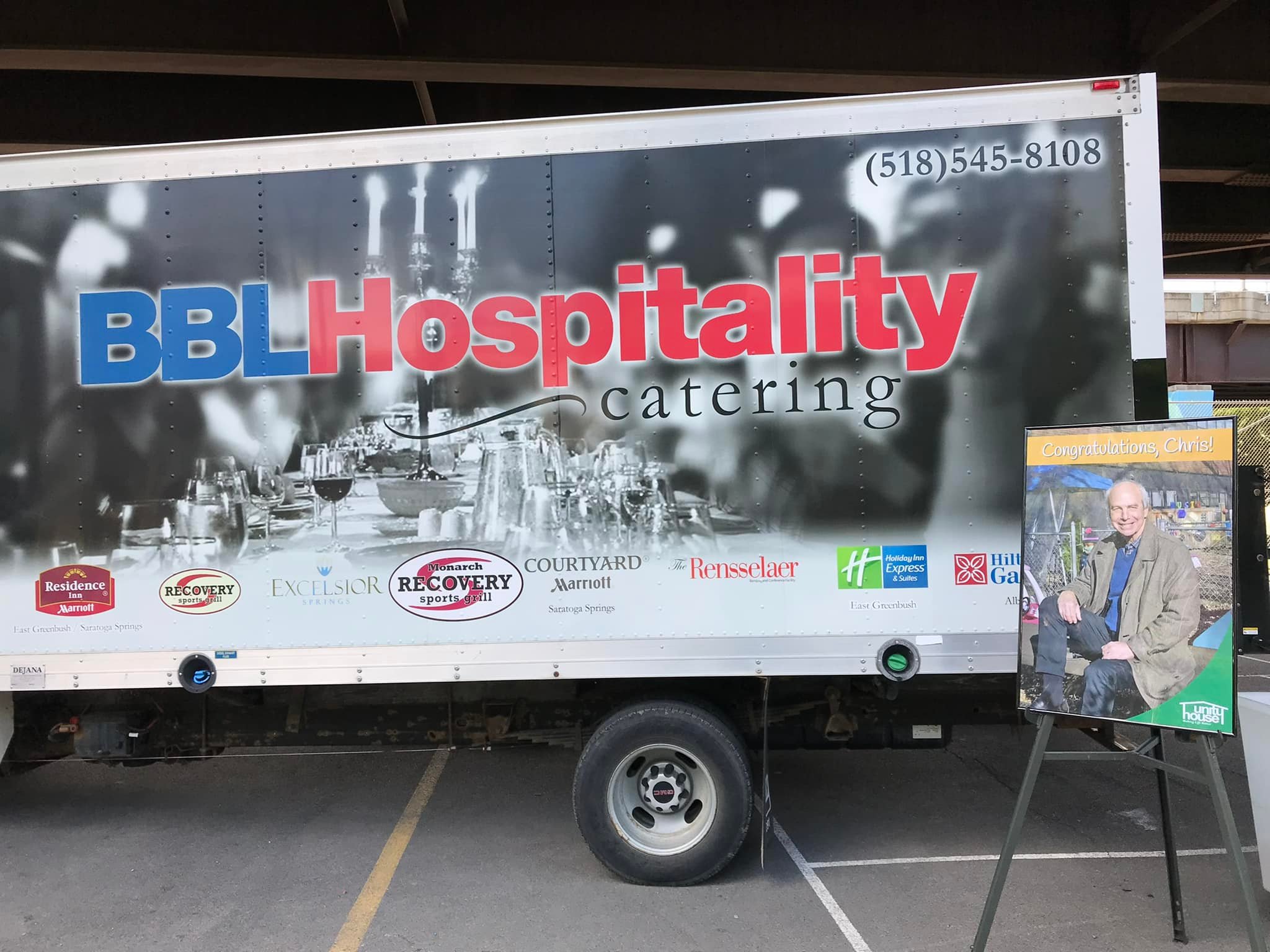 Great event hosts, great volunteers who give back
Our local Hilton Garden Inn did a great job hosting our Fond Farewell Breakfast for retiring CEO Chris Burke. Then, the following week, they volunteered at Unity House's Front Door to cook and serve a delicious catered lunch. Not only was it a great meal for our guests who come for our free weekday meal, it was a nice respite for our kitchen crew. The lunch also provided an opportunity for guests, who could not make the breakfast, to say farewell to Chris Burke
Wishing a Fond Farewell to retiring CEO Chris Burke
For 50 years Unity House has been a community of serving and empowering people in need. In all that time there have been only two Chief Executive Officers: the late Mary Jane Smith, who was among the trio of founders in 1971, and Chris Burke after Mary Jane retired in 1991.
When Chris announced his retirement plans, it meant the end of an era. The Unity House Board of Directors began an extensive search, over months, to find the next CEO. We are thrilled to announce that David L. Bach will become the third CEO of Unity House. You can read more about David here. You will have a chance to meet David after he begins work in mid-August.
Long tenured employees make a difference
We commend Chris on his longevity. It's a trait he shares with other Unity House staff, like Liz in Housing who has provided direct care for 30 years, John in Facilities who has 2+ decades under his (tool) belt, and Sue at A Child's Place who, now that Chris is retiring, will be the longest tenured employee at Unity House, nearing 40 years!
Thanks for the well wishes
We appreciate all who came or sent their well wishes to Chris and his family. From the Mayor's Proclamation of June 30th being Chris Burke Day in Troy, to the many friends, family, public officials, peers, and colleagues who have extended their congratulations to Chris, we are grateful to everyone for their support.
We are especially grateful that Regis Obijiski, a founder of Unity House spoke from the podium at our fond farewell breakfast. Like Mary Jane Smith, Regis, along with the late Peter Callaghan, was inspired to live among poor people and help where he could. If you haven't already, consider watching this ten minute video about the history of Unity House and hear about our founding in Regis' own words.
The trio of founders were committed to living among the poor, the living the gospel, and to try to be the change they wished to see in the world. While today Unity House is a secular organization, our core values remain unchanged.
Farewell
We are excited for Chris Burke's retirement plans and wish him well. We are grateful for our storied past and look forward to the next chapter of Unity House history.
You can see photos from our event at this photo gallery.