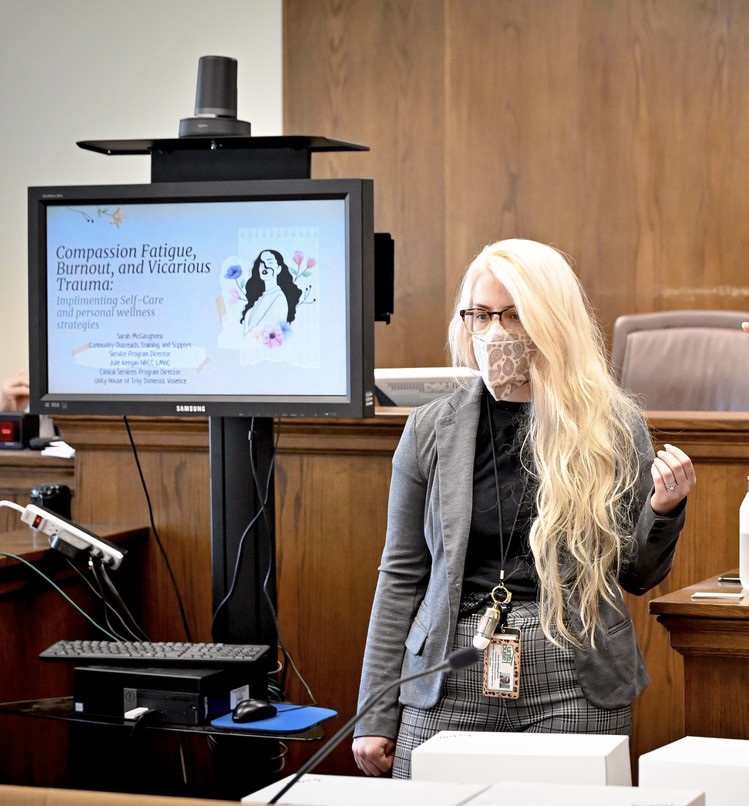 An Experienced Leader
Sarah McGaughnea, formerly head of Outreach & Youth Services at Unity House's Domestic Violence Services Program is now head of Non-Residential Services in the program. In this role Sarah overseas all facets of service delivery for victims of domestic violence outside of our 33 bed shelter, called residential services. Whether a person seeking refuge from dating and domestic abuse is housed in our shelter or living in the community, the services are the same. Services are free, voluntary and confidential. They include safety planning, safe shelter, shelter for animals, legal services, counseling, NYS Office of Victims Services application assistance, cell phones, referrals, advocacy, housing, teen services, outreach, and training for professional development. Service delivery benefits from each arm of the program, residential and non-residential, having individual oversight. This year alone the program has helped hundreds of people seeking safety. Last year staff answered over 1,000 calls for help on the 24 hour hotline.
In the community, many recognize Sarah for her expertise and outreach. She has worked in domestic violence services for 9 years, having spent an internship at our secure shelter while in college. Sarah is a passionate advocate for survivors and sees community education and outreach as vital to the collaborative community response necessary to address issues such as domestic violence. She has been key in fostering new and unique community partnerships, including improved services in rural communities and partnerships where pets and livestock of victims need shelter while their human companions find safety.
Maybe you have seen Sarah at our annual block party for domestic violence awareness & prevention, advocating for needed funding at the Capitol, or meeting with youth groups about Teen Dating Abuse. If you do see her, be sure to ask how you can help. Sarah knows better than anyone that it takes the whole community to be aware of the issues so we can make positive change for safer spaces.
Interested in volunteering?
Unity House's Domestic Violence Services Program is a terrific opportunity for individuals or groups to volunteer. In the fall, we kick off our Children's Holiday Program, which serves over 1,000 children at Unity House, including those from families served by our Domestic Violence Services Program. If you would like to learn how you can help put the sparkle in the holidays for a child in need this year, please call us at (518) 274-2607 x4134.
Upcoming Events:
You can join us at our free community block party to mark DV Awareness & Prevention month on Saturday, October 8th, the ribbon cutting on Thursday, October 20th (also Wear Purple Day) of our new outreach center for DV Services, or our Fall Fundraiser Breakfast on Wednesday, November 9th at The Desmond, now a Crowne Plaza property.
A reminder that help is always available for those experience domestic abuse or have questions and concerns about a loved one.