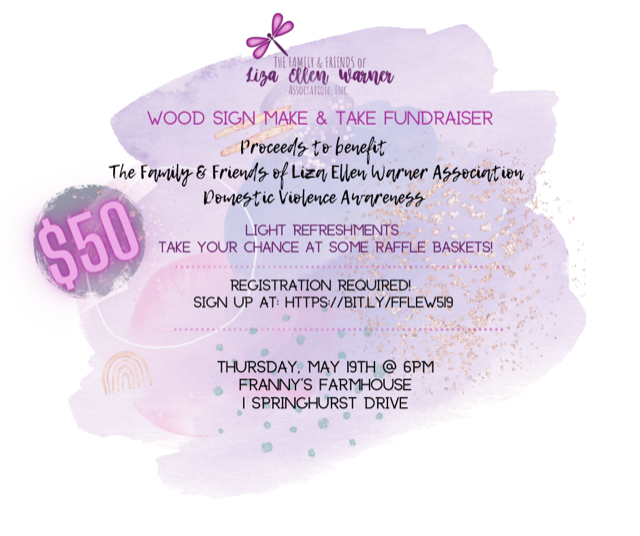 Local Group Hosts Fundraiser to help victims of Domestic Violence
Satisfy your crafting itch and create a unique piece of art for you or a loved one. In the process, you'll support the Friends and Family of Liza Ellen Warner Association, Inc. which helps victims of domestic violence, like those served at Unity House.
The talented folks at Franny's Farmhouse Projects make crafting look easy- anyone can get do it!
From organizers:
This is a make & take wood sign FUNdraiser event on Thursday, May 19th at 6pm, to benefit the Family and Friends of Liza E. Warner Association, Inc. You will get to stain your 12×12, 10×14 or 6×24 unframed wood sign and paint your stencil design. We have 16 stain colors to choose from for the background and 42 paint colors to choose from for your stencil design.
Make & Take events normally take about two hours. No crafting ability is necessary to attend. Our staff will help you every step of the way.
This event is being held at Franny's Farmhouse Craft Studio located at 1 Springhurst Drive East Greenbush, NY 12061.
Registration is required so that we can prepare all of your materials ahead of time. The cost is $50
Please purchase your ticket by May 17th.
For questions, please reach out to even organizers via the registration link. Special thanks to those who are making the great fundraiser possible.