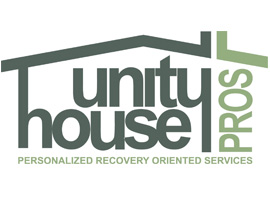 Unity House program puts the personal in recovery from mental illness
The PROS program, short for Personalized Recovery Oriented Services, engages and assists individuals in managing their mental illness. Trained staff help individuals restore and develop skills and supports to live in the community. Staff include licensed professionals in the disciplines of social work, mental health counseling, and nursing. This team also possess expertise in the areas of human services, addiction and employment.
The PROS program averages around 120 people and they see about 40 people per day. In the past year they've taught over 2800 classes and helped clients to create approximately 500 individualized recovery plans. They conduct approximately 480 assessments and have reported on progress roughly 1400 times.
PROS classes teach wellness self-management/coping skills, basic living skills, financial management, and community living exploration. The program also provides intensive services in relapse prevention, and goal acquisition. The program's supported employment specialists provide ongoing rehabilitative support for people who are already employed. The program helps people become employed, housed, obtain clinical care, and to live happy healthy lives.
For more information on the PROS Program at Unity House, contact Harlan Hall at (518) 274-2607 x4172