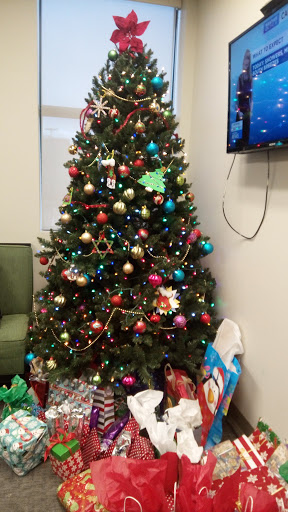 PROS, the Unity House program that offers services for adults living with mental illness, stands for Personalized Recovery Oriented Systems. It's a popular program at Unity House that provides structure and support along with professional services. Feedback from consumers has shown that the emphasis on personal self-determination to be a positive factor in recovery from mental illness.
For the holiday season, staff in Unity House's PROS program went all out. The hallways, classroom spaces, and common areas were decked out in holiday cheer. They topped off their merriment with a decorating contest. Photos do NOT do justice to the creativity that was on display, where themes of empowerment were woven into beautiful tableaus on doorways, where some of the holiday decorations were hand-made with recycled materials.
Staff and clients enjoyed a potluck meal with food cooked by staff and clients, as well as a grab bag where everyone received a gift.
For more information on the Unity House PROS program and other mental health and case management services available, please contact Service Director Linda Lewis at (518) 274-2607.