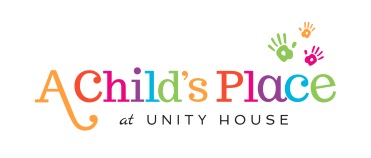 New Name for Unity House Children's Program
Unity House's childcare and special education programs will now be called A Child's Place at Unity House. Formerly known as the Unity Sunshine Program, services for children date back to the early 1970's when the founders of Unity House were responding to the needs of families in the neighborhood.
Today, A Child's Place at Unity House is a program serving hundreds of children across three main sites and several satellite locations. The program offers early childhood education as well as special education services for children with developmental delays. Serving children ages 6 weeks to 5 years of age, A Child's Place also collaborates with the school districts in Albany and Troy to provide community-based Universal Pre-Kindergarten.
The valuable services on offer include:
Childcare
Early Intervention
Preschool Special Education
Universal Pre-Kindergarten
Children may receive
Developmental evaluations
SEIT Services
Speech and language therapy
Physical therapy
Occupational therapy
Play therapy
Music therapy
Counseling services
Nursing services
A Child's Place can be found at in South Troy, downtown Troy, and downtown Albany. Evaluations and services from certified professionals are performed in the center, the home, and the community. A Child's Place is where children of all abilities grow and learn together.
You can download A Child's Place Brochure
For more information, please call Susan Rimkunas, Director of A Child's Place at Unity House: (518) 271-6777 or Srimkunas@UnityHouseNY.org