We already love them for their ice cream…
Stewart's Shops and the Dake Family have always been generous supporters of local causes across the Capital Region.
Maybe in the store you've dropped your change in the jar during their Holiday Match each Fall. They match every penny and the result is millions of dollars donated to charities near and far. So, it was not exactly a surprise when they gave an enthusiastic 'Yes' to supporting families who can afford day care and those with emergency needs not served by other sources of funding. What was a surprise was the amount: the Dake Family and Stewart's stepped up with a $100,000 gift to help families through Unity House.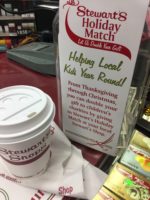 You can see Unity House's CEO, Chris Burke, talking about this great gift here and read about it here.
Many thanks to Stewart's Shops and the Dake Family for this wonderful gift and for all they do in the Capital Region. We love their ice cream and the convenience of their stores, now there is even more reason to love all they do.
P.S. No doubt you've tried the limited edition summertime ice cream flavors at your local Stewart's Shops. But just in case you haven't, be sure to try the Toffee Pie Time. It's the perfect mix of creamy, salty, and sweet. Tell 'em we sent you!