It's not called the I Love Unity House Gala for nothing!
Many thanks to everyone who came out for our gala on Friday, February 12th. We felt the love!
It was a terrific night and we were thrilled to honor one of Unity House's original founders, Ms. Mary Jane Smith. Also honored was the terrific Frank Pitts and his amazing team at architecture+ (architects of The Front Door!) and the super Howard & Bush Foundation, who support so much good in our area. We are especially grateful for their support in getting The Front Door up and open.
Special thanks to all our sponsors of this wonderful night. If you see them out in the community, please thank them for all they do! We are so blessed to live in a beautiful place filled with wonderful people.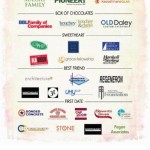 None of this would have been possible without the help of countless volunteers and donations that helped make this event a successful one for Unity House- Thank You!
The I Love Unity House Gala helps support valuable Unity House programs and services in pursuit of our mission to enhance the quality of life for people living in poverty, adults with mental illness, victims of domestic violence, children with developmental delays and their families, people living with HIV/AIDS, and others whose needs can effectively be met by Unity House services and philosophy.
On behalf of those we serve, thank you.