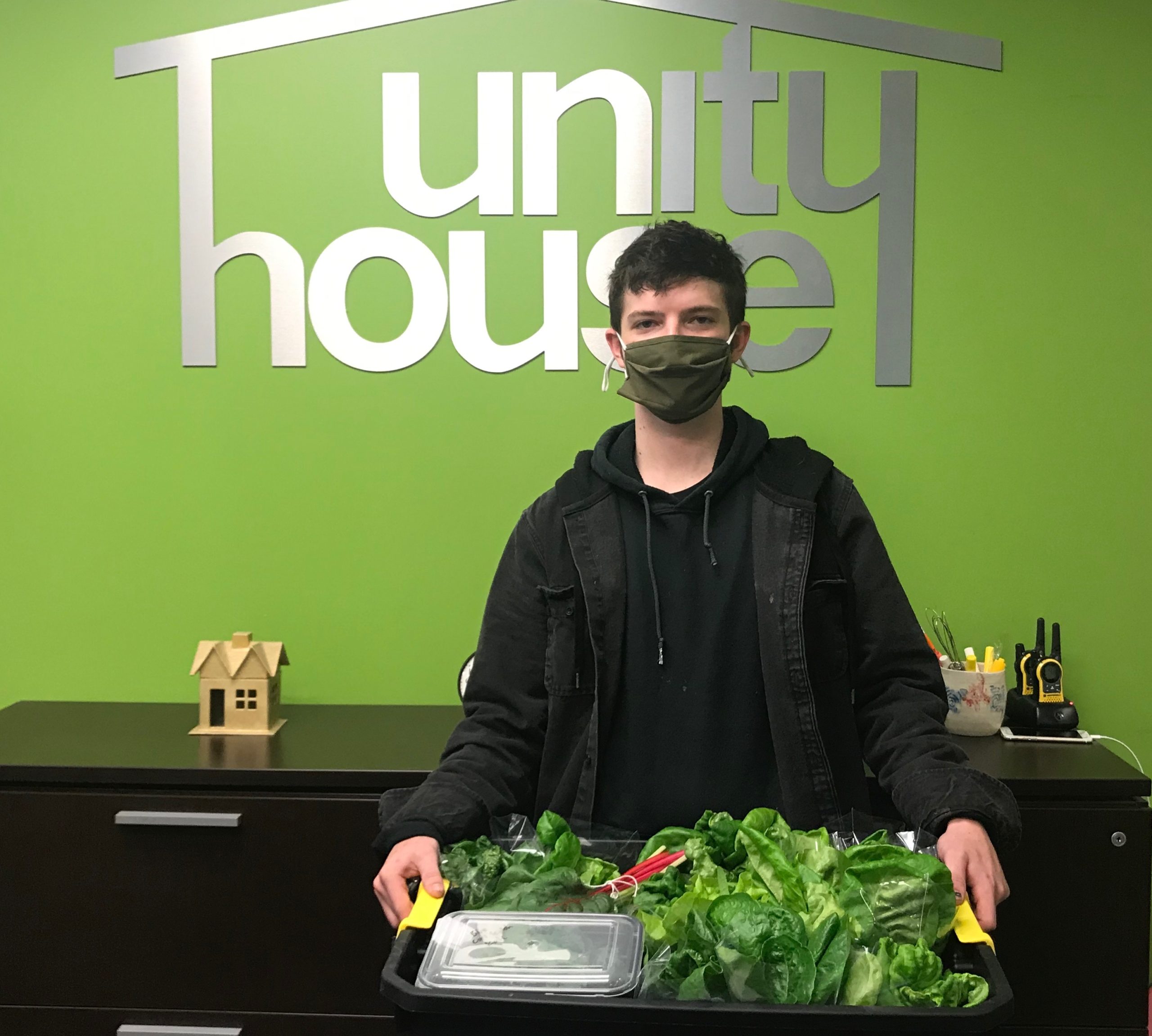 Meet Tyler.
Tyler is an 18 year old with a bit of green thumb. Instead of growing fresh produce outside, Tyler puts his green thumb to work indoors, in growing towers that grow fresh produce such as lettuce, cucumbers, kale, chard, and fresh herbs. Known as aeorponics, this growing method uses less water and soil than conventional farming methods, and is not limited to the traditional growing season. In his apartment, Tyler has 10 towers, each about 8 feet tall, that hold about 44 plants. What to do with such a bounty of vegetables? Donate them to the Unity House Food Pantry.
Tyler is familiar with Unity House since his mother, Kerry, works at A Child's Place at Unity House. The program, one of the longest-running at Unity House, serves children ages 6 weeks to 5 years of age, specializing in helping children with developmental delays. The program also offers childcare, special education pre-school, and universal pre-kindergarten in partnership with the Troy and Albany School Districts. Tyler's mom works with some of the most valuable services the program provides: occupational and physical therapies for children with developmental delays. The program has traditionally offered services and needed therapies to children in the home, the community, and in childcare centers. The pandemic has changed all of that and the team Kerry leads has gone to great lengths to still serve children in safe ways. It has not been easy for teachers, therapists, or parents, but they have demonstrated a collective resilience and creativity that is to be admired.
Given this, it's no wonder that Tyler is inspired to give back. He grew up hearing of the work of Unity House, about the social justice commitment of its founders, and, about how the issue of food insecurity is almost universal among the people we serve, often collectively referred to as 'the working poor.' Tyler appreciates that healthy food should not be a luxury. He understands that food pantries like that at Unity House fill a vital role in not only the emergency food supply, but also in connecting underprivileged households to fresh vegetables like swiss chard, kale, and juicy cucumbers.
In talking with Tyler, it's obvious he has bigger plans for his produce and we are rooting for his success. In the meantime, we are grateful for his donations and know he is the type of young person who will remain an example of one who gives back. Like any good farmer, he is committed to helping neighbors in need.