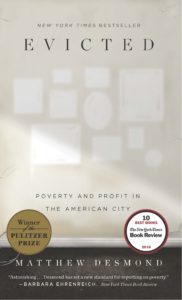 Evicted: a book that tackles the issues around extreme poverty and economic exploitation
Have you heard of Matthew Desmond's award-winning book, Evicted?
Matthew Desmond is a professor of sociology at Princeton University. He will be speaking about his book, 'Evicted: Poverty and Profit in the American City', at SUNYA's Page Hall on November 14th. The event is geared to be a community conversation to empower attendees with information to help change the conversation in our Capital Region Community.
Unity House is proud to be among the sponsors of this event. Brought tobether by the Community Foundation of the Greater Capital Region, Unity House, Catholic Charities of the Diocese of Albany, and the NY State Writer's Institute have invited Mr. Desmond to speak. This free event will help raise awareness about the issues faced by people living in extreme poverty.
The November 14th event is free, but registration is required. If you are interested in attending, please check the CFGCR's website for details and registration. The registration portal is expected to open in mid-summer.
Special thanks to author Matthew Desmond for making the Capital Region a stop in his rounds and for the community collaboration that is bringing him here.