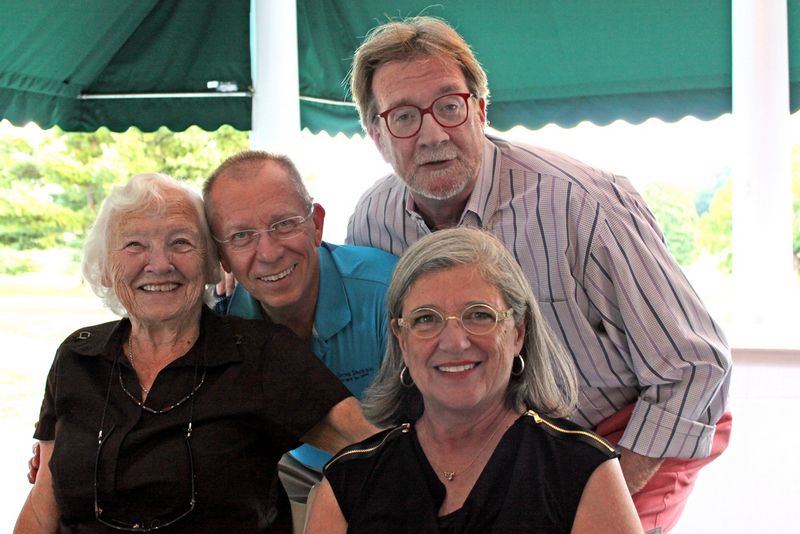 Unity House's committed Board of Directors are not just the ultimate volunteers, they are a deep bench of expertise.
We recently sat down with Noreen McKee, a longtime volunteer who currently serves as a board member, to talk about what motivates her to keep showing up and speaking out.
Q: How did you first learn about Unity House?
A: My connection to Unity House goes back to 1975 when I first met my husband, Steve McKee. He talked admiringly about his close cousin, Peter Callaghan, who was living in upstate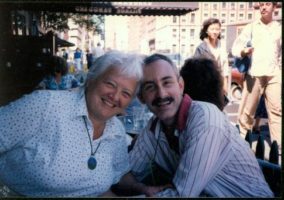 New York working with the inner city poor. Peter and his best friend, Regis Obijiski, had just been ordained Catholic priests in the Franciscan Order and both had been recruited by their good friend, a nun, Sister Mary Jane, to work with her to build a grassroots organization in the spirit of Dorothy Day to grapple with the poverty and racism affecting Troy. But it wasn't until 1982 when Steve and I moved to New York City from Alaska when I met all three.  We stayed with Pete who was living at the time in the East Village. Soon thereafter, at a Christmas party, we met Regis and the dynamic Mary Jane. Steve and I settled in Brooklyn and soon became close friends with all three of them, and we often travelled to Troy with the group whenever we had a long weekend.  All of us gathered at Mary Jane's house, which we called our "country home" because it was just that:  a home where we celebrated our friendship.  It was during those weekends that we learned all about Unity House and the wonderful work being done there to address social justice issues with commitment, care and dignity.
Q: You have long volunteered for Unity House and other causes. What does your Unity House volunteer work look like today?
A: I am now a member of the Board of Directors at Unity House and serve on its Advocacy Committee which is dedicated to giving voice to the voiceless. From its earliest days, this has always been a core mission of Unity House. Mary Jane was a strong and dedicated advocate for the poor often meeting with civic leaders to shine the spotlight on the injustices they suffered and the racial inequality that fueled poverty. Programs were developed to address child care, early childhood development, the needs of those suffering from mental illness, and food and housing security. Always committed to address the needs of the community, Unity House eventually became powerful advocates to address the HIV/AIDS crisis and domestic violence. Our advocacy committee meets monthly and in the spirit of Mary Jane we feel strongly about looking for ways to make life better. We often meet with our local officials, our elected representatives in the New York State legislature and in Congress whenever we can to bring the issues we are passionate about to their attention. For example, this year we crossed the river to Albany several times to advocate for pay increases for our child care workers and early childhood teachers, and for continued support of our domestic violence services program.
Advocacy is an extremely important function for an organization like ours working with those in the community struggling with poverty and inequality. Because I have been fortunate enough to live a life free from those perils, I am determined to do all I can with the gifts that I have to make our world a better place for all.
Q: What issue do you think is worth advocating for?
A: I have recently worked to bring early voting into the heart of downtown Troy to provide equitable access to early voting particularly for minorities and low income voters living in the most densely populated part of the County, and many of whom rely on public transportation because they do not own cars.  Voting is a fundamental right that sustains our democracy, and early voting provides the fuel that drives people to the polls. Nine days of early voting including two weekends when polls are open during the day and night gives greater flexibility for those who confront barriers making it difficult to cast ballots when voting occurs on just one day of the year. Indeed, studies have shown that in states where early voting has existed for years, turnout has risen significantly among minority and low income voters.
During the presidential election in 2020 the only early voting location in Troy was at the Holy Cross Apostolic Church on Spring Avenue. Because this site is not on a bus route, a group of community organizations led by T.E.A.M. Hero sponsored an initiative, Souls to the Polls, to make it easier for people from inner city Troy to vote early. This gave some who otherwise would not have voted at all, the opportunity to be heard at the ballot box.
Q: What would you want others to know about the people Unity House advocates for?
A: The people we advocate for are just like you and me.  They want to live a full life and become a part of the broader community.  They work hard (many hold two jobs).  They want good health care, quality child care, a sound education for their children, safe neighborhoods, and a decent home.  Just like us.
Many thanks to Noreen for taking the time to share about her work. We are grateful for all she does. If you'd like to learn more about volunteering or how you can advocate for the needs in your community, please get involved!