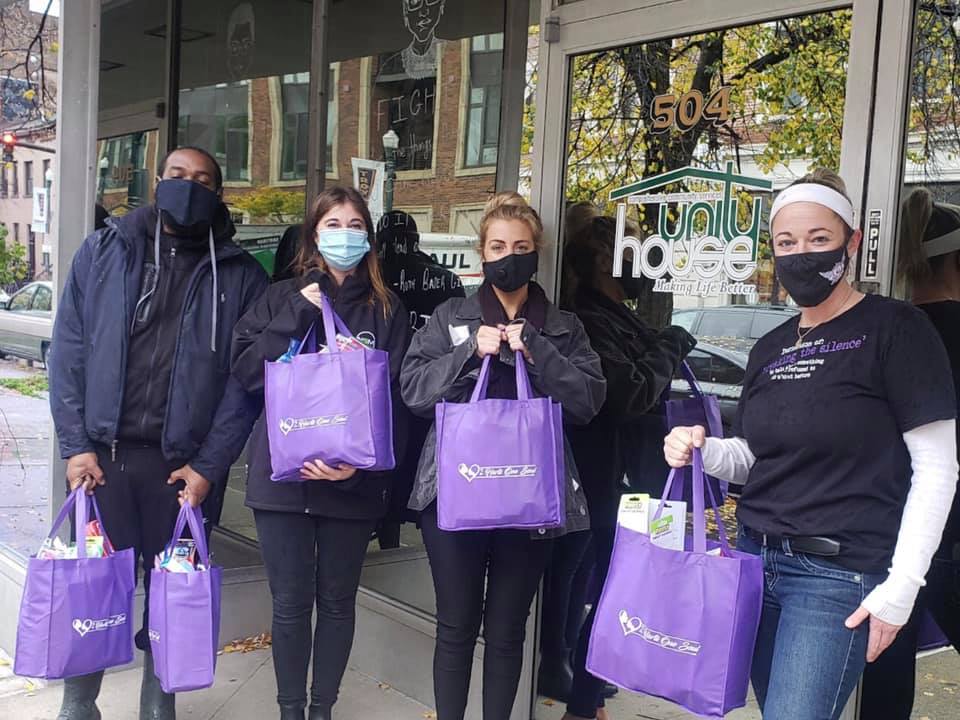 Kicking off Awareness Month with free block party that honors community collaboration
October is Domestic Violence awareness month. Among other outreach events, the Unity House Domestic Violence Services program will host a Community Block Party. This free event will take place on Saturday, October 9th on Union Street in Troy, NY. Union Street is adjacent to the Unity House DV Services office at 504 Broadway in downtown Troy.
The Block Party gives a chance to be educated about domestic violence and how it intersects with different aspects of our community. Community members will be able to collect resources to offer to victims or utilize themselves. The event, in a fun environment, will create an opportunity to showcase relationships in the community between victims, community members and our collaborative partners. Spanning across the Capital Region, partnerships among organizations help us better serve victims of domestic violence collaboratively. Our community partners are made up of both larger organizations and smaller programs. We have relationships with police, the court system, the District Attorneys office, the probation department, and others. These are partnerships that one might expect to see, but there are also relationships that are unconventional and unique that are instrumental in addressing the issue of domestic violence.
"Raising Awareness and showing to victims that they are not isolated and alone and that they have the support of the community, is key in encouraging victims to seek help." -Unity House's Sarah McGaughnea of the USDVS program
This year we are honoring two outstanding volunteers and an organization. Joy Meher and Ashley Hart will each receive the Outstanding Volunteer Award and SNUG LLTY at Trinity Alliance will be honored with the Outstanding Community Partner Award. Unity House's Tabitha Dunn, Service Director of the Domestic Violence Services program, will present the awards.
About our Honorees:
Outstanding Volunteer Award: honoring individuals who are champions of survivors of domestic violence. Their actions not only help people directly, but they create greater awareness about the issue of domestic violence and how to best meet the needs of survivors.
Ashley Hart is acutely aware of the impact of domestic violence since her sister died at the hands of her abuser in 2012. The late Nikki Hart left behind a devastated family who work to honor her memory by helping others. The creation of 2 Harts, One Soul is just one manifestation of Ashley Hart's commitment to be a light of hope in the world.
During the pandemic and beyond, Ashley not only helped directly, she inspired others to help too: by creating face masks and donating them where needed, Ashley sparked a chain reaction of caring. People who wanted to help were able to pitch in, either by making or purchasing a hand-sewn mask to donate to a shelter like that at Unity House for victims of DV, or by donating directly for needed services. Because of Ashley, hundreds of people received free face masks. In addition, Ashley and her network have donated care packages with shampoos, soaps and feminine napkins. Unity House is proud to honor Ashley Hart with the Outstanding Volunteer Award for service, advocacy, and action.
Joy Meher is a longtime volunteer in Unity House's domestic violence services program. She is a one-woman supply master who  personally keeps our secure shelter stocked with needed supplies for residents. Joy is a great help in fundraising and creating awareness about the needs of those seeking refuge from domestic violence. Since her retirement Joy has spent much of her time donating resources and services to the domestic violence services program. Unity House is proud to honor Joy Meher with the Outstanding Volunteer Award for service, advocacy, and action.
Community Collaboration Award: honoring a group or organization that works in the community to address the needs of victims of abuse, working collaboratively to reduce and end violence.
SNUG LLTY at Trinity Alliance
You may know that SNUG is guns spelled backwards. It is a neighborhood violence prevention program, working directly with youth and young adults at greatest risk of death by gun violence. SNUG's work relies on street outreach workers who live in the communities in which they serve, to act and be viewed as credible messengers. SNUG seeks to modify an existing norm of community acceptance of violent behavior from its citizens by engaging community residents, businesses, and community-based organizations to implement coordinated strategies to reduce and prevent shootings and killings. Our DV services program works closely with SNUG to protect victims of domestic abuse and assist youth who have engaged in gang violence. Unity House is proud to honor SNUG with the Coordinated Community Response Award for service, advocacy, and action.
A reminder that help is always available. Contact our 24 hour hotline: (518) 272-2370 or text/webchat: