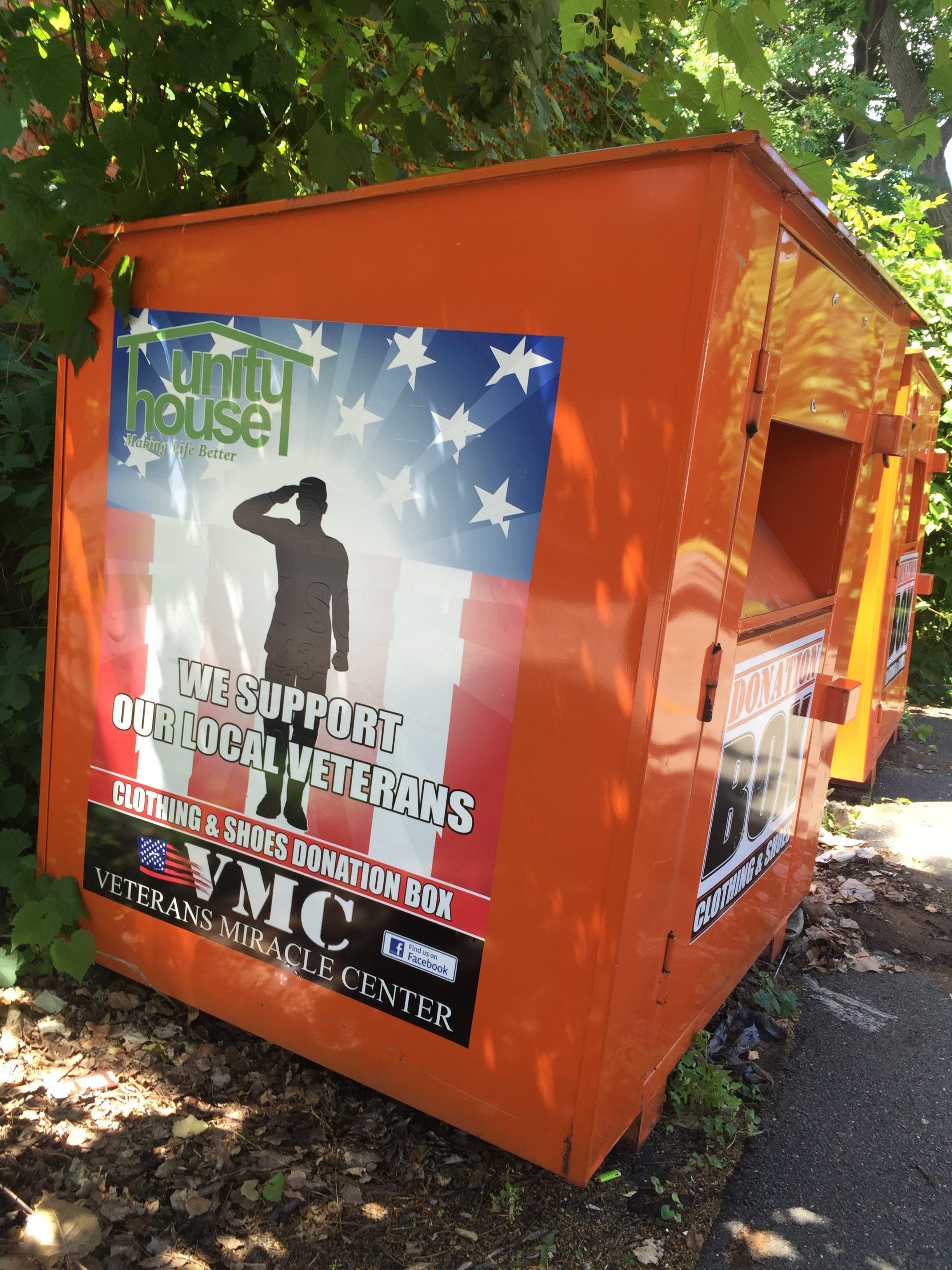 Unity House's 8th Street location is the home to new donation bins for drop off of clothing and shoes.
Unity House was founded by people who were committed to living in a low-income neighborhood to better understand the needs of the poor. The original 'Street Ministry' operation of Unity House was in a small house on 8th Street in North Central Troy.
The agency has come a long way since its founding in 1971: in 2013 we consolidated many services under one roof at a community resource center called The Front Door at 2431 6th Avenue, not far from that 8th Street house. The 8th Street location lives on, currently being used as a swing space for seasonal programs of Unity House. As an important part of the organization's history, it's fitting that the new, colorful donation bins for clothing and shoes were placed at the house on 8th Street.
The new bins, which are part of a partnership with the Veterans Miracle Center, are emblazoned with the names for both organizations, an American flag and the silhouette of a proud soldier in salute. The imagery is to remind people that Unity House serves veterans among the many who come to Unity House. It also serves to remind that help is available for veterans at Unity House.
Unity House has long served veterans in need. While the needs of veterans are similar to many who come to Unity House for help, we recognize that veterans may also have needs unique to their experience as veterans. For this reason, we are grateful to have veterans among our staff and volunteers and appreciate the partnerships forged in service to veterans.
The Veterans Miracle Center, or VMC, is located in Albany and is part of Jezreel International, a humanitarian aid group. By partnering with VMC, we can better process donations of shoes and clothing for people in need.
Many thanks to Jezreel International and the Veterans Miracle Center for being a valuable partner in this work and for all they do at home and beyond.