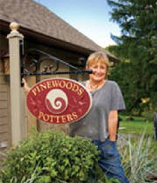 Artist Shares Talent to Help Others
The first thing you should know about ceramicist Mary LaFleur is that she is talented. The second is that she is generous.
When the Capital District went in to lock-down, Mary went to her clay, a medium she has worked in for over 40 years. A gifted artist and teacher, Mary's Pinewoods Potters studio in Troy has been busy during the Pandemic. She started making ceramic faces and before long had a series. But what to do with these Faces of the Pandemic when the world is on pause?
That's where the generosity comes in. Working with the Arts Center of the Capital Region, where Mary teaches pottery, Mary and Executive Director Liz Reiss came up with the idea to host an online Art Sale to benefit people impacted by the economic fallout of Covid. Proceeds from selling the art, 51 pieces in the online exhibit, will benefit Unity House food programs as well as help create murals in our community.
Since the start of the pandemic emergency feeding programs have seen an increase in demand. Much of that increase comes from new faces: households that are new to food pantries and food distribution programs. People who have lost jobs, run out of unemployment, or had to leave a job due to illness or to take care of dependents, are needing community resources to make ends meet. In this regard, access to Unity House's food pantry and grab 'n go meal are lifelines.
Many thanks to Mary for sharing her art and doing so in a way that will help people in need during this uncertain time. You can read more about Mary here: Artist Mary La Fleur
Online Art Sale
Due to social distancing, sale of pieces from Faces of the Pandemic is online. By purchasing a COVID Face, you are helping to keep Troy healthy. Purchased works can be picked up from the Arts Center in downtown Troy, or for $15.05 more, it will be shipped to you.
Special thanks to Sister Loretta Hoag for photographing each piece for the online store.