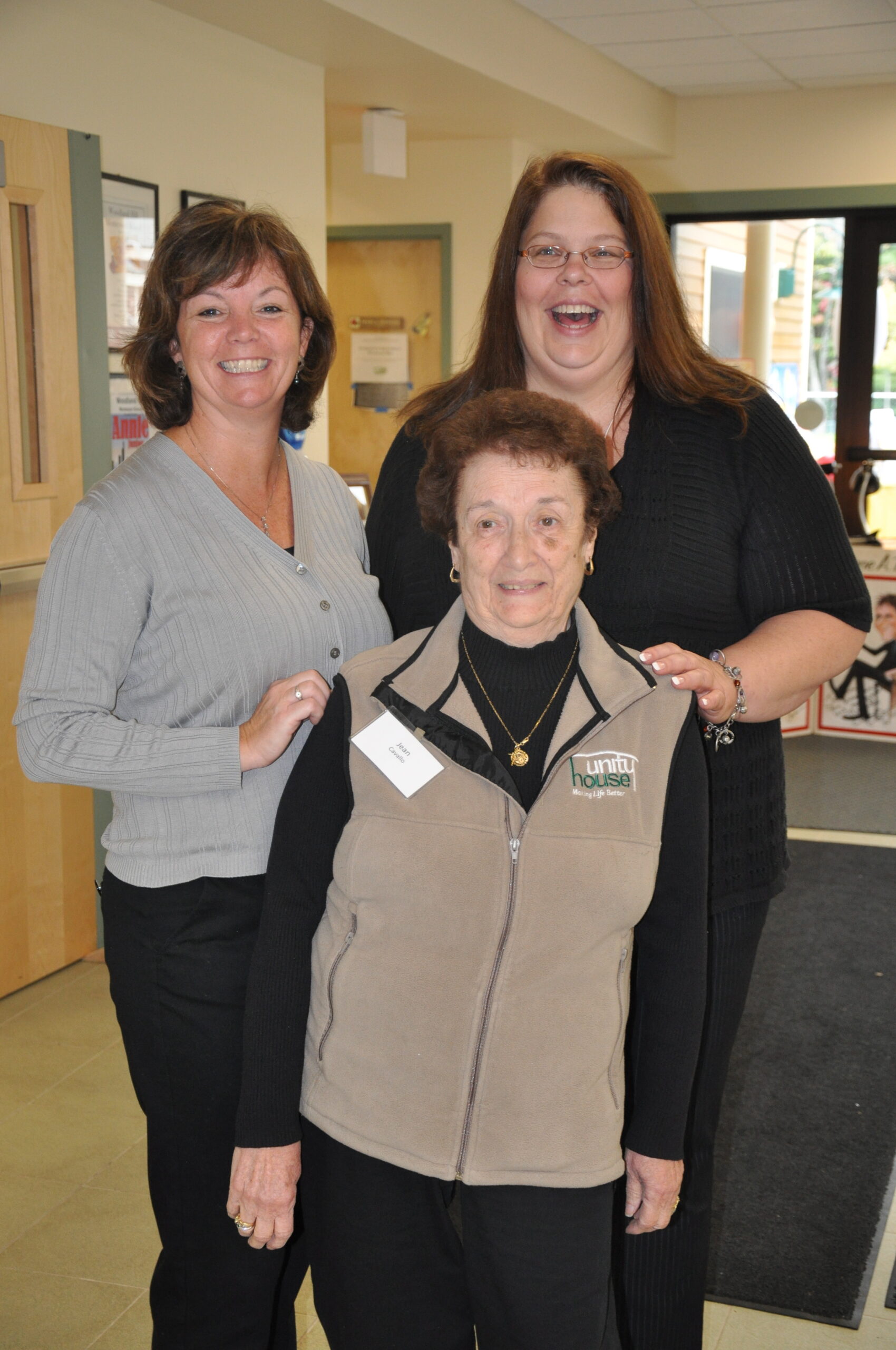 In Tribute: Jean Cavallo (1932-2022)
In 1978 Jean Cavallo came to work with Mary Jane Smith at Unity House. It was a challenging time for Jean: her husband had become disabled and she had four small children at home. Jean started as a bookkeeper, taking on tasks, doing whatever she could to support the mission. She had a steady role in the administrative offices making her, in many ways, the face of Unity House. Jean was the person who greeted everyone. She was a natural. Jean worked at Unity House for almost 4 decades, retiring in 2013.
GOAT
Jean really was the Greatest Of All Time. We have a photo of her wearing a Super bowl ring. It does not look out of place on Jean. Our archives have photos of Jean, laughing with Mary Jane and wearing bathrobes at the office- likely related to Mary Jane's retirement and her proposed life of leisure, which was laughable. You can see photos here.
Jean was a mainstay at Unity House and many remember her at 33 Second Street downtown. By then she was the Executive Admin to the CEO. Chris Burke might have been the boss, but everyone knew Jean was in charge of many things, essentially everything on the 2nd floor. A meticulous record keeper and a stickler for detail, Jean kept things together at a time in the agency when it was a challenge to maintain order amidst crumbling infrastructure.
Jean also saw tremendous growth in her time at Unity House. She helped with Unity House's Capital Campaign, a $6 million dollar project that funded the construction of a new shelter for victims of domestic violence and a community resource center, consolidating many services under one roof. Jean stepped up for every needed task and could be relied upon to be at every event, greeting each guest by name. She seemed to know everyone. Everyone knew and loved Jean.
In 2010 Jean was among the honorees at Unity House's 40th Birthday Bash that celebrated community heroes. She said, "I will be forever grateful to Unity House for showing me what caring and sharing truly means." Jean meant a lot to Unity House, and Unity House meant a lot to Jean.
Jean was especially fond of the late Mary Jane Smith, a founder of Unity House. A devout woman, Jean sometimes would roll her eyes when Mary Jane sounded like a sailor, but she never let that get in the way of the valuable work. She would go to church and pray for Mary Jane, others, and especially people in need. Jean was as much a part of the mission as anyone who provided direct service.
Jean enjoyed all kinds of games of chance, as evidenced by her retirement in 2013. Her day started when she was picked up by a limousine, the driver of which was nearly twice her height- and handsome to boot. He squired Jean about town so she could say her farewells in style. At her final stop were doughnuts for everyone and a bouquet of flowers for Jean: among the flowers were scratch-off lottery tickets. She insisted we give the extra doughnuts to the Troy Police Department.
We will all miss Jean. We extend our deepest condolences to the Cavallo family, especially to her children, among them Sue Butler, who works at A Child's Place. Sue has surpassed her mother's longevity record. Among the Cavallos commitment, caring and generosity are traits that, well, they run in the family.