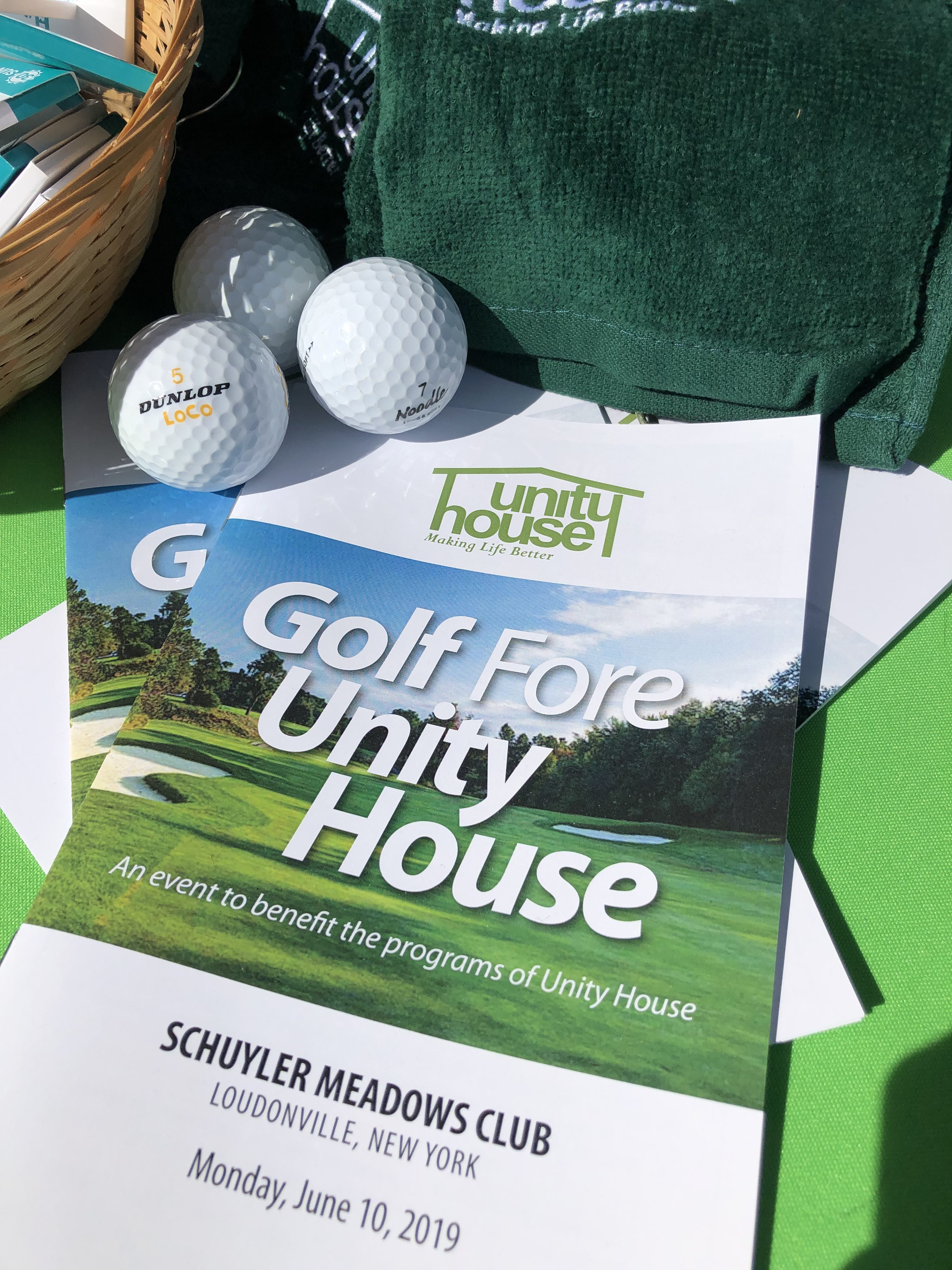 Golf FORE Unity House a Success
It looked like rain…. at times the forecast was dubious…. it's allergy season…. but none of those possibilities made an impact on our day. It was a SUPER beautiful day at Schuyler Meadows on June 10th for Unity House's annual golf event. The rain held off until the golfers were off the course and the greens have never looked so good!
Honored to have had Siena Men's Basketball Coach Join Us
Coach Carmen Maciariello, or Coach Carm as he is known around the Siena College campus, was a great Master of Ceremonies for our event. 
Music al Fresco
Many thanks to Mike Foley for playing the bagpipes to send our golfers out to the course.
Northeast Acura

Alas, there was no winner on the Hole-in-One Contest (it's a super difficult challenge!), but it sure was nice to have the latest model of the super Acura RDX at the course. From Northeast Acura, the car was a beautiful incentive for golfers and would have been the prize for a hole in one on that challenging tee.
It Takes a Village
Many thanks to our sponsors:
SEFCU
Bouchey & Clarke
BBL
Minich MacGregor Wealth Management
RBC Wealth Management
Northeast Acura
KeyBanc Capital Markets
Stephen J. McKee Foundation
The Old Brick Furniture
The Seymour Fox Memorial Foundation
TRIP & RCHR
Vision Data Equipment
architecture+
CAP COM
CDPHP
Conifer Park
Dwight Plumbing and Heating
Marvin and Company, P.C., CPAs
Pioneer Bank
UBS
W.B. Mason
Chem RX Pharmacy Services
Krackeler Scientific
Local 294 Teamsters
UHY LLP
Woodland Hill Montessori School
Catholic Charities
CT Male Associates
Dr. Lee McElroy & RPI Athletics
Marra's Pharmacy
National Business Technologies
The Three Musketeers: Clara Hunt, Charleena Keels, & Louise Liberty
Wanna make sure to be involved next year? Contact Mandy at (518) 274-2607 x4135 or Events@UnityHouseNY.org for more information.