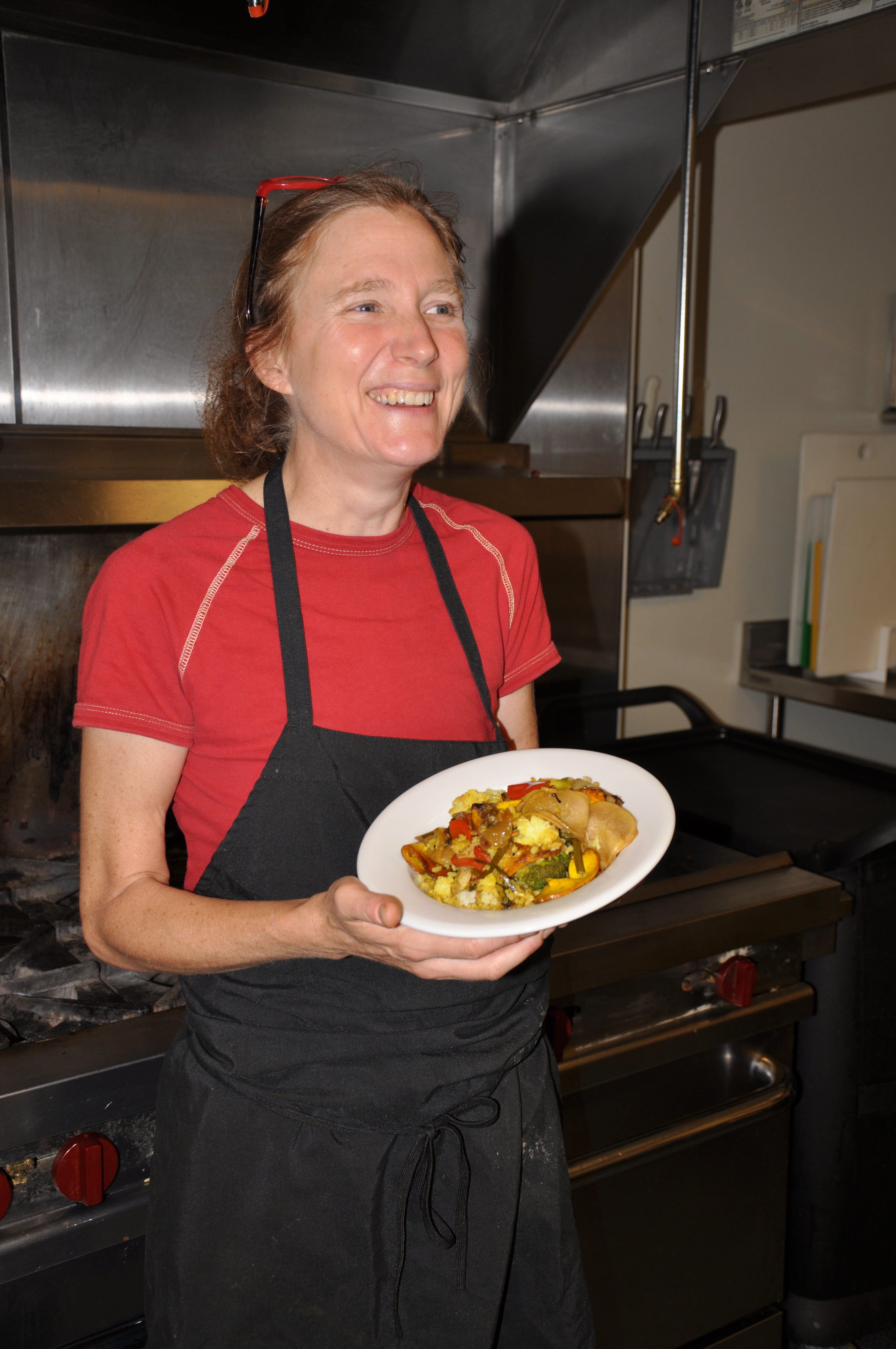 Unity House is grateful for staff with many talents. Amy Halloran, a Food Security Case Manager in Unity House's Community Resources program, is also a writer. Her title at Unity House is a bit misleading because, while she addresses the issues of food insecurity, her work focuses on food justice: on nourishing people and community, on teaching, and on learning.
If you have been to Unity House's Front Door at 2431 Sixth Avenue, you may have seen Amy leading a kitchen crew as it prepares lunch for 200, hauling in apples she's gleaned from a local farm, working with Capital Roots staff as they Squash Hunger (literally), or teaching people how to elevate a staple as humble as a pancake.
Amy Halloran is also a writer, author of The New Bread Basket, and speaks about regional grain production and food. In recognition of Hunger and Homelessness Awareness Month, Amy shared her thoughts on what food programs mean for those who come to Unity House.
Many thanks to Amy for her work in the kitchen and at the keyboard.
The community meals program and food pantry at Unity House serve more than food.
In the dining room, we are serving kindness and connection, offering an opportunity for all the support associated with feeding each other and sharing a meal.
We strive to make our lunches appealing and nutritious, trying to create a balanced plate highlighting vegetables. We have lots of salads, cooked greens, and things like homemade coleslaw. Anyone eating or visiting can see the food but there's a whole lot that the naked eye can't find.
The hidden elements of our meals are the insulation they provide against hunger and homelessness. People living in chronic poverty face a host of challenges, and any meal they don't have to pay for – whether in our dining room, or made at home with ingredients from our food pantry – helps keep fragile personal and family economies solvent.
The costs of housing and utilities are steep. When people have to choose between making rent and paying the electric bill, money for food comes last. Keeping a roof over your head takes priority over buying healthy foods. This is why food insecurity – or not having enough food to lead an active life – exists.
Dealing with medical crises, and the everyday emergencies that happen in our lives is expensive for those of us who have steady jobs and fairly predictable circumstances. Imagine trying to keep the refrigerator and your belly somewhat full if your life is always, or often, unpredictable. That's why the work we do in the kitchen and in the food pantry is so important: by helping address food needs, we can help buffer some of the larger threats people face, such as eviction and homelessness.
Our kitchen and food pantry are always in need of volunteers. Please let us know if you want to be a part of what we do.