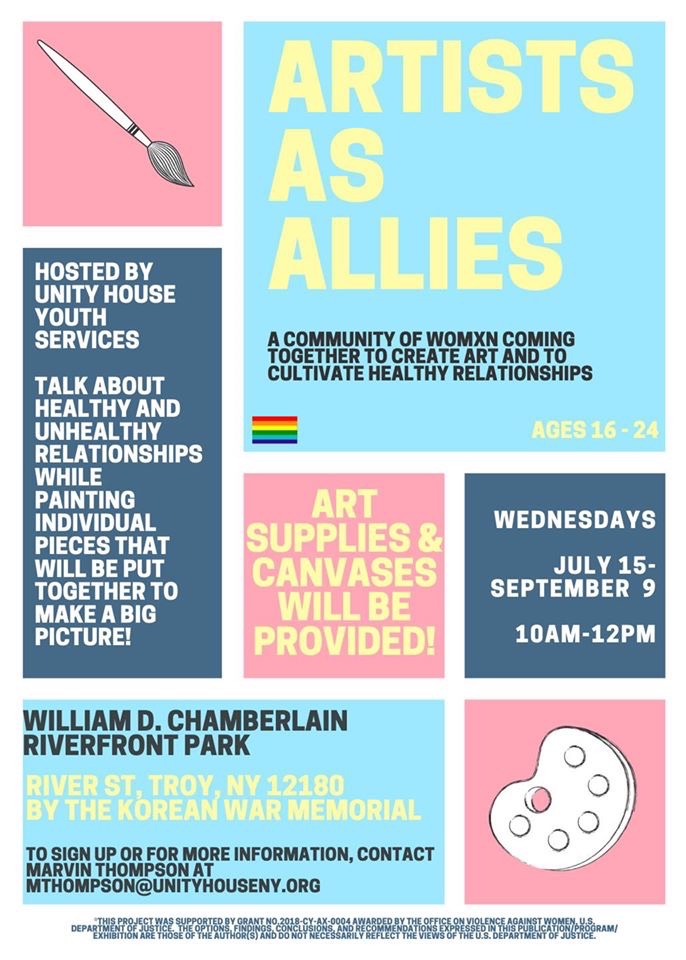 Domestic Violence Services Team offers resources for Teens
In a time of pandemic, the long hot summer can loom large for teens, especially for those who aren't able to work. What might spell boredom for teens spells opportunity for Unity House's Domestic Violence (DV) Services program.
The program has long been known for their extensive community collaboration, as a means to meet the needs of those affected by domestic violence, and as a tool to raising awareness about this issue. With young people, it's especially important to engage them in conversations and not just about DV. Outreach and education are needed around healthy relationships, where and which resources exist for teens, and how teens can affect change.
Fortunately, Rensselaer County Teens have a lot to say. Staff in the DV Services program have created two programs especially for teens: Artists as Allies and a Youth Advisory Board.
Artists as Allies
Meeting each week, youth ages 16-24 will engage young womxn to create art work and cultivate healthy relationships. Each participant will receive a canvas and acrylic paint to create an individual piece. Each artist's piece will be used to create a larger mural which will be showcased at the office for the Domestic Violence Services program in downtown Troy. Artists as Allies meets each Wednesday through September 9th, from 10-noon at Troy's Riverfront Park, near the Korean War Memorial. Remote participants can join in via Zoom.
Youth Advisory Board
The Youth Advisory Board is open for those ages 12-18.  The group works together to develop ideas for how the community can serve, engage, and get out material to youth in a COVID environment. The Youth Advisory Board focuses on the new and diverse needs of teens during  a pandemic and how dating (as well as dating violence) has changed.  The groups engages in discussions on healthy relationships and works together to create a project centered around their work as it relates to meeting the needs of youth in a time of pandemic and in a post-COVID environment. The Youth Advisory Board meets each Tuesday, through September 1st, from 10-noon at Troy's Riverfront Park, near the Korean War Memorial. Remote participants can join in via Zoom.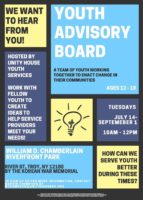 How to get involved
Youth interested in either of these programs can come to Riverfront Park on the designated day of the program or join in via Zoom. Specific details are available on the Unity House Facebook Page and on the DV Services Instagram Page. Youth can also reach out to MThompson@UnityHouseNY.org for more information.
A reminder that masks are required and measures, such as temperature checks, will be implemented to ensure best practice for public safety. In the case of inclement weather, be sure to check online to see if there have been changes, such as moving the meeting to strictly online for that day.
If you'd like to contribute to the success of the program, consider a donation of new art supplies, individually packed snacks that teens will eat, or make a gift to Unity House's Domestic Violence Services program.