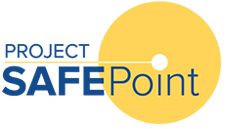 Collaboration on Harm Reduction
Through a collaboration between Unity House and Catholic Charities, the Project Safe Point van can be found at Unity House on Tuesday afternoons, from 2-4pm. Project Safe Point is a mobile van offering various services and support for active drug users. The van, an unmarked vehicle offering discreet services, will be parked 2431 6th Ave in Unity House's rear parking lot every Tuesday afternoon.
Project Safe Point has been operating effectively in the Capital District and surrounding counties for years. Word of its availability as a point of contact for help has spread largely by word of mouth. In the words of Keith Brown, director of Project Safe Point, "There aren't a lot of resources for active drug users that address their health and safety in a non-stigmatizing way, so you can imagine when folks find out there's a place they can come where we're mostly concerned with their needs, with their health and immediate safety and trying to keep people alive, but while also trying to help them maybe access the services that they haven't been able to, that word tends to spread," said Brown.
Among Project Safe Point's services are screening and testing for HIV and Hepatitis C, opioid overdose prevention and response training including naloxone distribution, recovery readiness counseling, treatment referral, access to syringes and prevention materials and disposal sites for safe collection of used needles and syringes.
It's about Public Health
Given the public health crisis that opiate addiction has brought to many communities, along with higher incidence of infections like HIV and Hepatitis C, programs like Project Safe Point are an important part of any public health program that works to treat addiction and prevent the spread of disease. You can read more about Project Safe Point on their website. For questions on Project Safe Point at Unity House, please contact Stefanie Bastien at Unity House: (518) 274-2607, x4134 or sbastien@UnityHouseNY.org