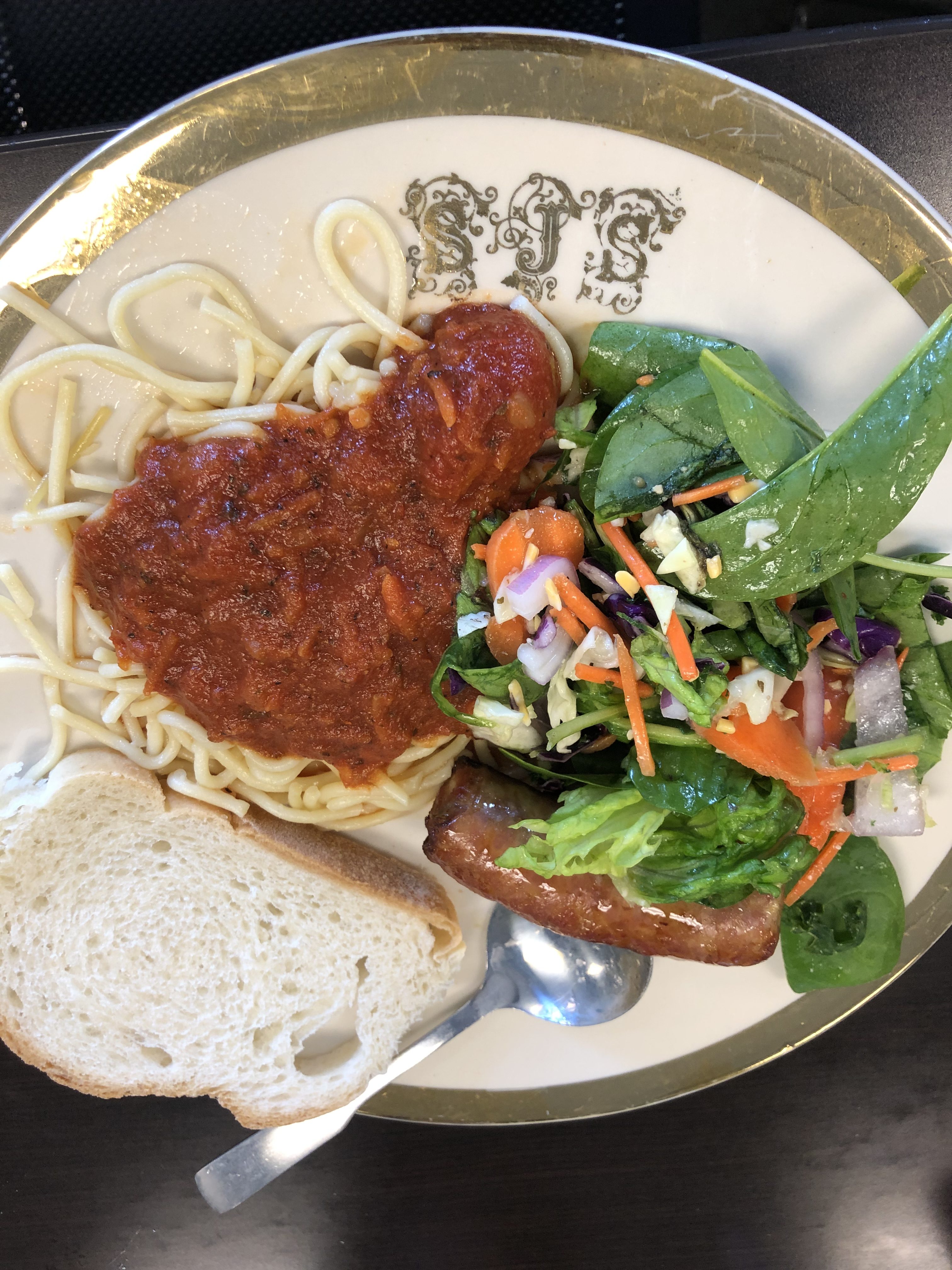 Sisters of Saint Joseph Help Serve up Goodness
If you stopped in at Unity House's Front Door on Wednesday, May 15th, you would have noticed that it was Mary Jane Day at Unity House. On what would have been her 91st birthday, we honored the legacy of one of our founders, Mary Jane Smith. Mary Jane passed away in 2017 and we take her birthday as an opportunity to be grateful for her tremendous capacity for caring for others, her great sense of humor, her compassion, and her respect for the dignity that is inherent in all of us.
We got out the photo albums, set up an inspiration board, and served her favorite dish at our community meal. One detail that may have escaped your attention, were some new plates used in our dining room. Pictured here with a delicious lunch, the plates are fancy: gold trim with an ornate SJS monogram, for St. Joseph's Seminary. They were a gift from the Sisters of Saint Joseph of Carondelet, the order to which Mary Jane Smith was once a member. (After being dispensed of her vows, Mary Jane went on to marry the love of her life and was of service in so many ways. She always remained close to her CSJ community, where she was beloved.)
These plates, now over 70 years old, were not for every day use. They were not even for eating off of. The plates functioned as 'service plates': they held the soup bowl or the salad plate. As those plates were whisked away after the food was finished, the service plate remained on the table, clean and pretty. The plates were used to serve the hierarchy of the church.
The plates spent a lot of time at the Provincial House of the Sisters of Saint Joseph. They were put in storage and only recently taken out as part of a clean-out of their facility. The Provincial House is undertaking an exciting renovation- a plan to not only 'serve the dear neighbor' as their community motto goes, but also increase the financial resilience of the order.
In cleaning out storage areas, the plates were discovered and were donated to Unity House. We knew exactly when their debut in our dining room had to be and the timing could not have been better. The plates were washed and ready for Mary Jane Day at Unity House. Among our non-descript utilitarian plates, were about 25 of the fancy SJS plates serving a free meal to almost 150 guests in our dining room.
Mary Jane Day was a success at Unity House. We are grateful for the many people who shared in their memories and honored her volunteerism in their own way. One special moment of the day was seeing Sister Anne Stephen, the Josephite Sister Dynamo who steered the plates our way. We were delighted that Sister Anne came to Unity House for Mary Jane Day and that she got to see the plates in use. She was so kind to us and our guests. As she explained later about seeing the plates in action- and probably the first time they were eaten off of and not used as service plates-  "They went from serving the hierarchy of the church to serving the humble of the church." She thought Mary Jane would be proud. We think so too. To think that her legacy is to take care of each other, to sit down and eat meals together, to 'serve the dear neighbor' is impressive. We are grateful to the Sisters of Saint Joseph of Carondelet for their service and gifts. We are especially grateful they thought of Unity House for the plates. (Thank you, Sister Anne Stephen!)
Best of all, we're going to use the good china every day.