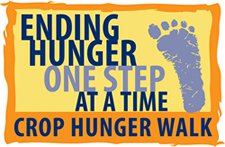 Unity House again forms a team – you can join us!
The Troy Area United Ministries (TAUM) is once again hosting our area's CROP Hunger Walk, an event that raises awareness of and support for programs that address food insecurity around the world. This year, the event is likely to be more of a DIY event than a formally organized walk where large groups are gathered. But the commitment is as strong as ever!
Event date is Sunday, May 2, 2021
You can lend your support in several ways. Please consider:
Joining the Unity House team: you can sign up as a part of our team and start fundraising among your family and friends.
Join the event as an individual- you don't have to join a specific team to help make a difference.
Make a donation to the Unity House team or a team member- this is the easiest way to give support, especially if you can't do the Walk part.
Make a donation to the Troy/Rensselaer Crop Walk in general. This is a great option for anyone who can't pick a favorite team and will not be able to participate in the event itself on May 2nd.
You can find updated information online: at TAUM's website, and on Facebook.
Meanwhile, stay up to date by following Unity House online. You can find us on Facebook, Twitter, Instagram, and LinkedIn.