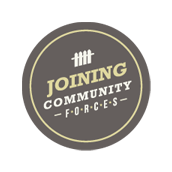 Expanding on a Great Idea
It started with First Lady Michelle Obama and Dr. Jill Biden's efforts to better assist Service members, military families and veterans. That's how Joining Community Forces came about. As their website explains, "Community Forces focus the efforts of local providers with a common goal: to strengthen the local military community. Because Community Forces work in communities around the country, they are uniquely positioned to find and consolidate the best local resources, and that means providing better and faster assistance to service members, military families, and veterans when they need it."
Unity House is proud to partner with others to better serve service members, active or otherwise, and their families. Unity House has always served veterans in myriad ways. We hope that by talking more about our services, the issues veterans and their families face, and how best to meet their needs, we can not only serve people better, but help shine a light on issues that are sometimes unique to veterans and military families.
Want to learn more? Contact Unity House at (518) 274-2607, x4133 and ask how we can work together to join community forces.
Bonus Fact: Did you know that Unity House has veterans and retired military on staff? Hoorah!