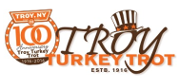 Unity House staffers and friends will be running in the terrific Troy Turkey Trot!
Each year the Troy Turkey Trot draws runners from around the Capital Region to run for a good causes- two, actually. Proceeds from the race, which is one of the oldest around, will benefit the Regional Food Bank of Northeastern NY and Joseph's House and Shelter. Unity House works closely with both organizations: we buy food from the food bank for our community food pantry and we work closely with staff from Joseph's House and shelter. Together, staff from both organizations work to meet the needs of people who are homeless or people who are at risk of being homeless.
November is national Hunger and Homelessness Awareness Month
It's fitting that one of Troy's best events would benefit organizations that work to address the issue. Nationwide, lack of affordable housing affects individuals and families with children. One of out 50, or about 1.5 million, American children are homeless each year. People who experience homelessness generally make up four focus areas: families, youth, veterans and chronically homeless. That's part of the reason why working together among organizations is important in addressing the issue of homelessness and homelessness prevention.
At Unity House, food insecurity is another need which brings people to our food pantry and weekday community meal. In our country, about 13% of households are food insecure. That is, consistent access to adequate food is limited by a lack of money and other resources at times during the year. Unity House hosts a NOEP Coordinator who helps with SANP benefits access and recertification. Commonly known as food stamps, the program is the largest part of the food security safety net.
Unity House also partners with neighboring non-profit CEO in helping hundreds of families with Thanksgiving dinner. By working together, we can better serve those who come to us in need. Coordinating delivery of services also means we can do so with dignity and respect to people in need. This partnership continues through the holiday season, where we'll work together to serve over 1,300 children in our Adopt a Child holiday gift-giving program.
Of course, none of this is possible without the help of many volunteers, donors and supporters. The community collaboration is key in meeting the needs of people in need, and in raising awareness of the issues people face. It all starts with a single step. A lot like running, actually. Which makes us all the more proud that staff and friends will be coming together in the season of giving to run the streets of Troy on Thanksgiving Day.