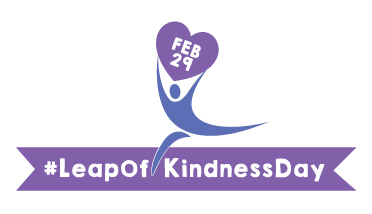 202o marks Leap Year
February 29th is a bonus day on the calendar, one that comes along only every four years. This year, consider dedicating time to make A Leap of Kindness.
Initiated by the Saratoga Chamber of Commerce in 2016, the #LeapofKindnessDay has grown to include over 100 chambers nationwide, including the wonderful Rensselaer County Regional Chamber of Commerce. (Many thanks to the great publications of our local chamber, which brought Leap of Kindness to our attention.)
Here are some ideas on how you can make a Leap of Kindness. Consider this a guide not just for Leap Year, but for anytime.
Pay it forward and buy a cup of coffee. It's always nice when you get up to the Stewart's counter and realize the person in front of you has paid for your cup of coffee. It would probably work at the ice cream counter too…
Host a food drive. Among your family and friends, find out what your local pantry or food bank needs. You can collect any non-perishable items or pick a theme like diapers, soup, or cereal. The Unity House pantry is currently in need of soap, toothpaste, shampoo.
Collect warm coats. It's cold outside! New or gently used coats are always in need for all sizes. Collecting a few coats and donating them to a program like Unity House's Community Resources program where they will be put to good use is a definite leap of (warm) kindness.
Plan a Volunteer Day. Unity House needs volunteers in many programs. Consider attending a monthly volunteer information session or call our Volunteer Desk to learn more: (518) 274-2607 x4134.
If you or your group would like to help Unity House meet the needs of people who are struggling and hurting, please consider volunteering or calling us about hosting a drive for needed items. In whatever way you make a leap of kindness, and on whatever day you do it, thank you for thinking of others.