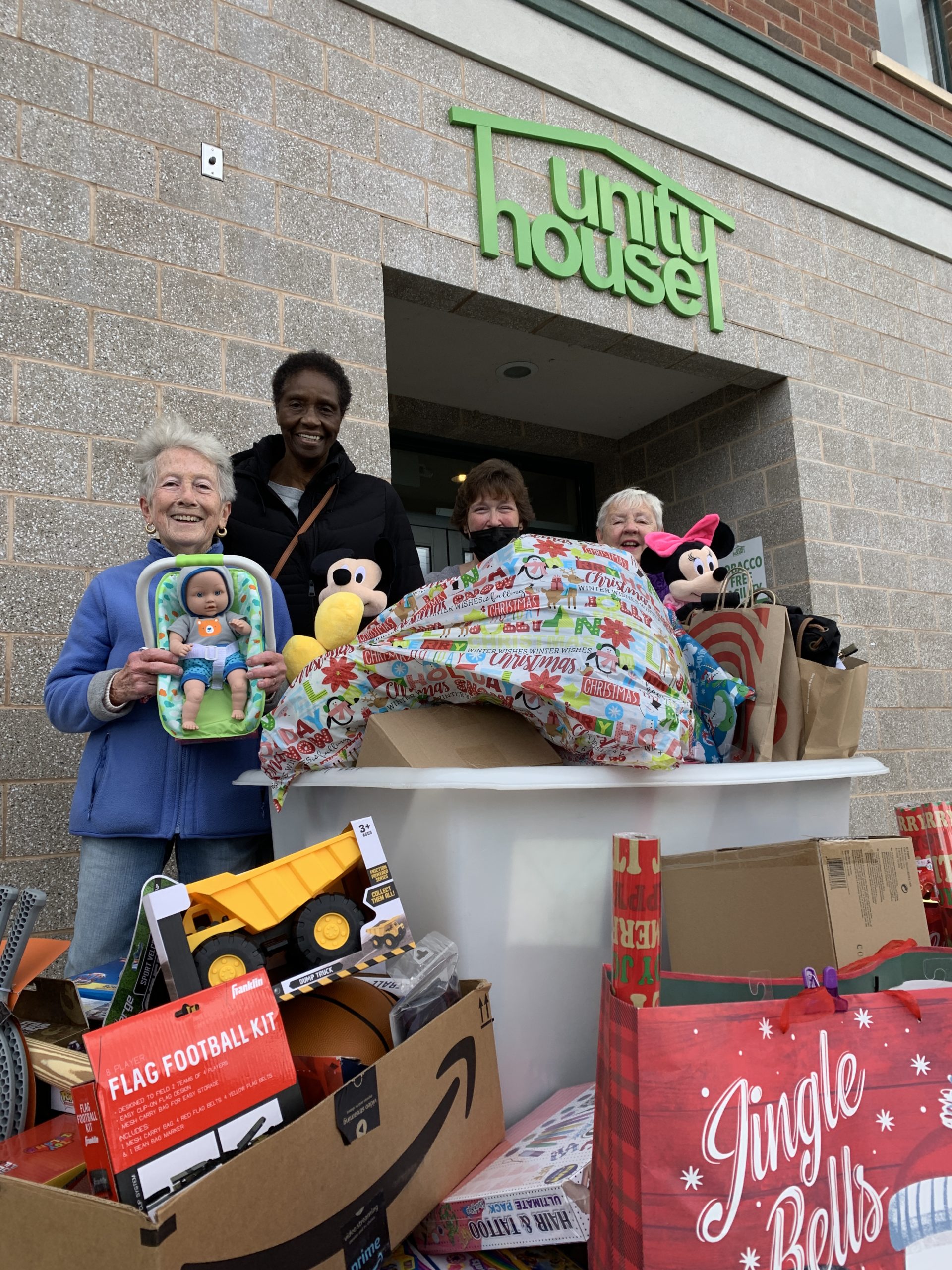 People Who Make Life Better
Mandy Brown
In the photo, Mandy Brown is the brunette in the back, barely visible behind the mountain of toys this trio of donors purchased for kids they 'adopted' for the holiday season.
It's all part of our Children's Holiday Program, which serves approximately 1,100 children across Unity House programs. A tremendous undertaking, helping children in need is possible only with the support of many generous people. It's a lot to organize, which brings us to the dynamo who is the coordinator: Mandy Brown.
Mandy is the Unity House Special Events Coordinator. She organizes events at Unity House, such as our golf tournament, our Fall Breakfast (you can get tickets and meet David Bach, CEO of Unity House!), our celebratory events, and more. The Children's Holiday program, which is like a marathon event, is an ambitious undertaking that benefits from Mandy's efficient planning.
The program connects children in need with people who want to help. Because it means filling children's specific wants (think toys) and needs (think winter coats), it takes time. Mandy starts early (think October) by meeting with program staff. Those who work directly with consumers are the boots on the ground. They know, for example, how one year we had coats, but not in the right sizes. Fortunately, Mandy was able to shuffle resources and get the right sized items where they were needed.
After planning and coordination, Mandy reaches out to donors who want to help, like the trio pictured. Not only do they 'adopt' specific children, the ladies tap into their social network and collect new toys and other needed items. Donations like these go to the Unity House North Pole, where you can find Mandy and some volunteer elves sorting and checking their lists.
Just like the real North Pole, the exact location is a mystery, which is to say that life at a non-profit means we are often short on space. Fortunately, Mandy brings her can-do attitude and a supply box that is like the Mary Poppins carpet bag to make any space work.
There are challenges with a program helping this many children: some donors want to shop for little kid toys, especially when they involve their own children in giving back. Mandy encourages people to go beyond the toy aisle and think of teens and tweens. Folks who don't want to shop can write a check/make an online donation to our Children's Holiday Fund, ship toys direct from our online Shopping Lists, or donate gift cards, which we can use from just about any local or big box store to buy needed items.
Who benefits
Mandy and staff at Unity House sites work hard to get needs met without duplicating efforts of other programs. For this reason, we work with neighboring non-profits to ensure eligible families are signing up with the right program.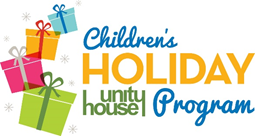 For people already on the margins, like those living with chronic food insecurity or other life challenges that are exacerbated by poverty, the holidays can be a stressful time, especially when it comes to meeting the needs of your children.
A busy mom herself, Mandy understands. She makes giving back a family affair. Whether it's shopping with her kids and husband for gifts to donate, or wrangling her jolly dad to show up somewhere as Santa (on his Harley!), they all pitch in.
Mandy is always quick to acknowledge what a team effort the Children's Holiday Program is, "None of this would be possible without the help of so many people: families, local businesses, service groups, and more. They, along with caseworkers who understand the needs of our families, make it possible for us to serve so many kids."
Putting the sparkle in the holiday season
By connecting generous donors with a child in need, Mandy coordinates an agency-wide effort that reaches every corner of Unity House. The Children's Holiday Program helps children residing in our shelter, little ones in our daycare, those in our housing programs, kids with parents in our job/employment training programs, and the children whose parents visit our food pantry.
If you'd like to help or learn more about the Children's Holiday Program, reach out to Mandy Brown at (518) 274-2607 x4139 or ping her at Events@UnityHouseNY.org but give her a minute, she's probably counting Christmas jammies.