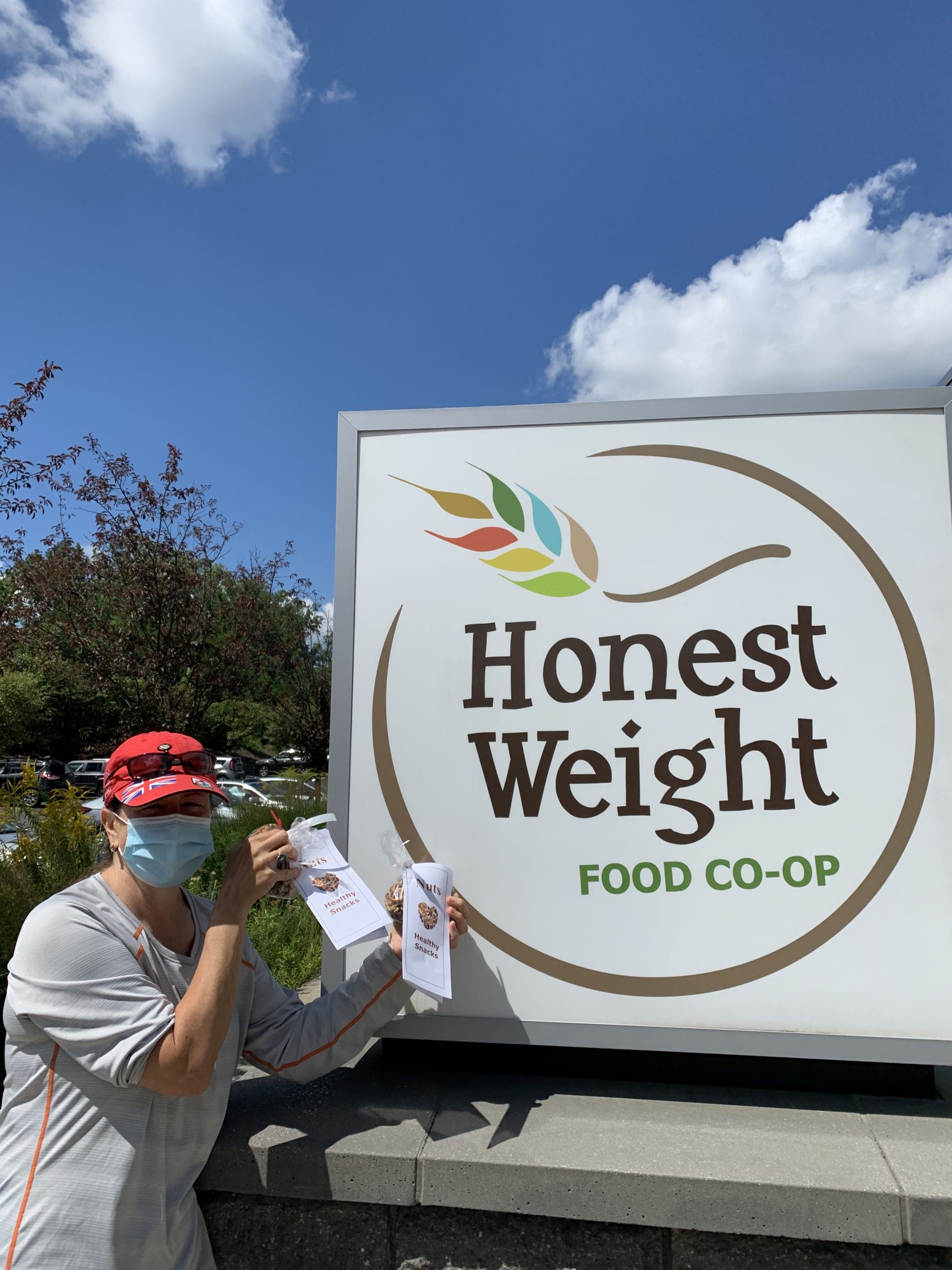 Honest Weight Food Coop Still Serving
In pre-pandemic times we had a great partnership with Albany's Honest Weight Food Coop. Through their outreach and community engagement, we had a cheery volunteer from Honest Weight who set up a tasting station outside our dining room. Catherine Jura would come bearing hot food, good recipes, give-aways, and tips. The dishes, like split pea soup or vegetarian chili, were made with food from Honest Weight, and contained ingredients that are commonly on offer on the shelves of the Unity House food pantry.
Guests were invited to sample dishes, take home some free spices so they could build a basic spice cabinet, or take home information with recipes. We saw guests try things they never would have tried had this volunteer not built up relationships and rapport over time. Guests raved about some of the dishes. We learned that not everyone knows what to do with dried peas and that canned pumpkin elicits very strong opinions, both pro and con.
Perhaps the most poignant moment came when an excited guest took home some powdered cinnamon. Her son thought it only came in stick form and was grinding down this one cinnamon stick for his hot chocolate. She was thrilled to be offered a free bag of cinnamon to take home, along with recipes and cinnamon facts (did you know it comes from the bark of a tree??). Our guest planned to wrap up the powdered cinnamon and put it in her son's Christmas stocking.
Honestly, it's moments like that where you appreciate the human connection that breaking bread provides. We were so grateful for Honest Weight's donations and for connecting us with Catherine, a super volunteer. She earned the trust of our guests, who came to see her as a regular, monthly visitor to look forward to.
Then came the Pandemic
No sampling or indoor dining. We had to adjust our service delivery and changed how volunteers can safely serve. In the case of Honest Weight Food Coop, they were committed to still helping, now more than ever.They turned their efforts to the Unity House food pantry, where we have seen demand skyrocket as more families face food insecurity. Together, our staff and Honest Weight worked out a way to still provide those recipes, tips, and tricks while filling a need.
Honest Weight, specifically Catherine working at Honest Weight's location, recently made available packets of delicious trail mix, along with a brochure on how to make trail mix at home. They had a recipe for no–bake granola bars- all using ingredients available in our food pantry. Nuts are a nutritional powerhouse- providing healthy fats and more. They can also be expensive. While our pantry sometimes can get walnuts, items like pecans or seeds are more of a luxury. So we appreciate that Honest Weight can help fill a need, broaden food horizons, and make a donation that really packs a nutritional punch. Making your own food is better for your health and your wallet, but it too can be seen as a luxury. For this reason, we appreciate how their gifts help make cooking at home more accessible by making this easy, in bite-sized doses.
We miss Catherine, our Rock Star Volunteer, but appreciate that she is still able to serve at a distance. Like us, Catherine sees that the pandemic has brought many challenges and brought to light great inequities, some of which are exacerbated by current conditions. We are grateful for the commitment by local groups like Honest Weight, for super volunteers who find ways to help, and people's willingness to adapt to changing times. It makes us appreciate all the home-grown love!