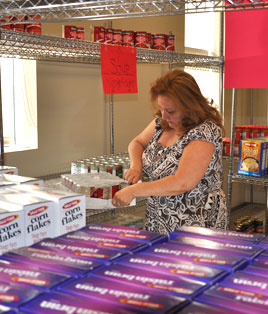 September 3rd marks National Food Bank Day: Hunger Awareness
We are grateful for our partnership with the Regional Food Bank of Northeastern NY and all the donations from our community that help stock the shelves of our food pantry. Together we help feed our neighbors!
The Unity House pantry is open every weekday and available to anyone in Rensselaer County who identifies as food insecure. At not cost to the community members who visit us, we provide emergency, 3 day supplies of food for each member of a household that comes to us for help.
We order the majority of the food from our regional food bank and we take pride in being a healthy pantry. We stock nutrient dense food like fresh produce, lean protein, whole grains, etc. We also work to cater to people who may have food allergies or medical conditions that have dietary restrictions. The pantry also has other supplies on hand such as infant formula, baby diapers (very often requested!), personal hygiene items, and pet food.
So far, in 2021
We have helped almost 500 households and almost 1,000 individuals. On average, our pantry processes about 1,000 pounds of food each week. While the majority of our food comes from the Regional Food Bank, where we have an account, the pantry also relies on donations.
How you can help
Consider making a gift in support of our food programs, or donating non-perishable foods to help stock pantry shelves. You can also drop in the mail a check made out to Unity House: 2431 6th Ave., Troy, NY 12180. In addition, you can volunteer to help staff the pantry. Many thanks to all the helpers who work to address food insecurity. We could not do our work without you!