Commonly known as Food Stamps, SNAP benefits are an important part of the food safety net
Thanks to Hunger Solutions NY, Unity House has a dedicated NOEP Coordinator to help with SNAP benefits. That's an alphabet soup of acronyms so let's break it down.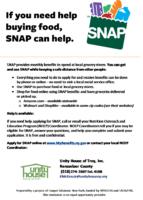 NOEP stands for Nutrition Outreach Education Program. It's the title that Hunger Solutions NY gives to its programs that address food insecurity among New York residents.
SNAP stands for Supplemental Nutrition Assistance Program, the federal nutrition program that helps stretch a food budget and buy healthy food. It's commonly known as food stamps.
Food insecurity, when you don't have enough food to meet your needs, is an issue in our community. Widespread job loss due to social distancing measures has only exacerbated the number of people who are food insecure, especially among the working poor who live paycheck-to-paycheck.
Like every county in NY, Rensselaer County has a dedicated staffer to help people with SNAP benefits. Called a NOEP Coordinator, the position is housed out of Unity House's Front Door location. You can reach our expert at the below number. Please, due to social distancing, we ask that you NOT drop in. Please call ahead.
Karen McKenzie
NOEP Coordinator, Rensselaer County
Unity House Of Troy, Inc.
2431 6th Ave, Troy, NY 12180
Ph. 518 274-2607 Ext 4108
Fax 518-271-9687
KMcKenzie@unityhouseny.org
Karen can answer any questions about obtaining or re-certifying needed SNAP benefits.
Would you like to help address food insecurity?
Consider a donation to the Unity House Food Pantry.