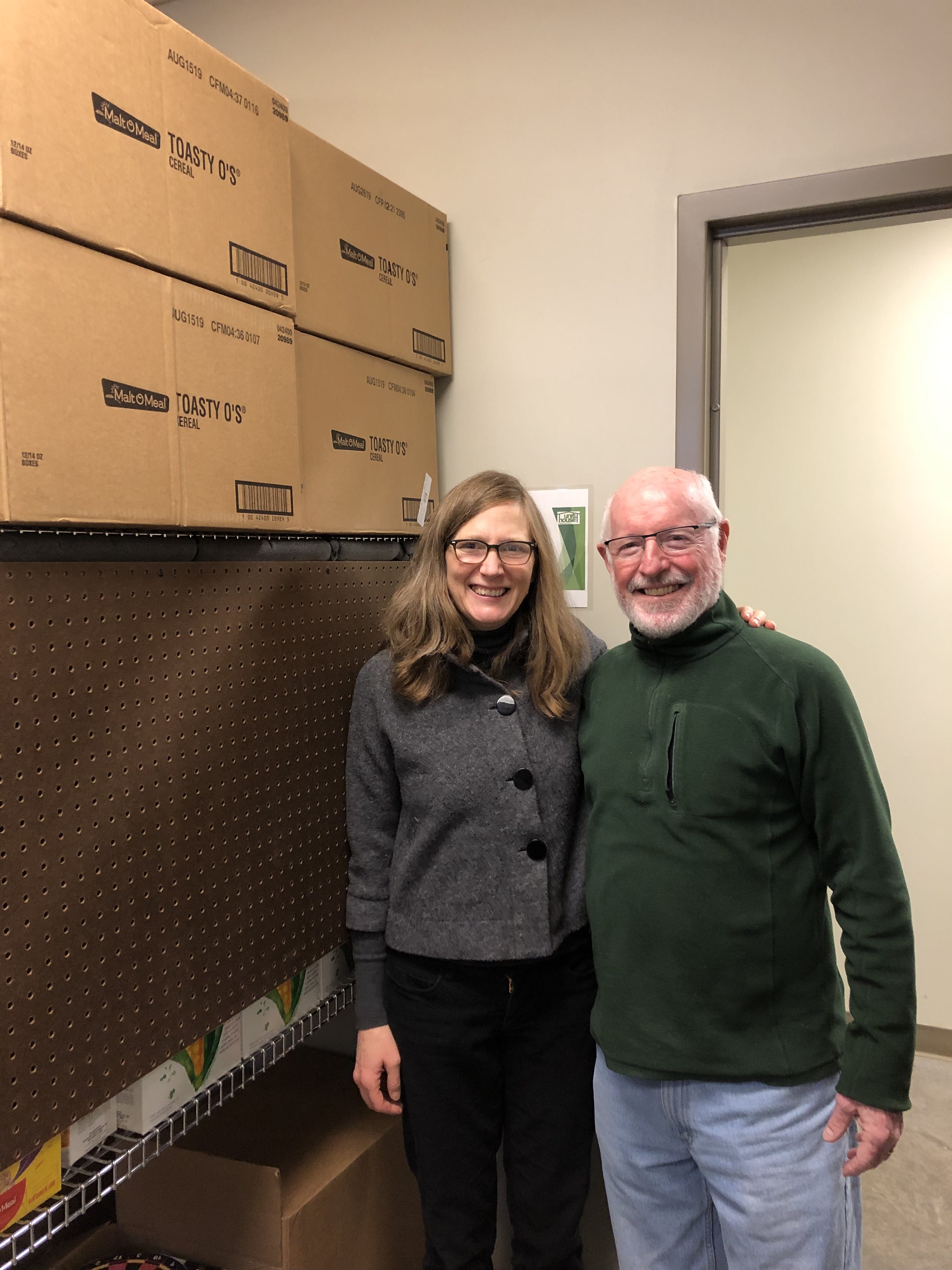 Volunteers are vital to our success.
We are especially grateful for a recent project done by a volunteer that improved our food pantry.
The Unity House food pantry has shelving units stocked with food. It's a busy space, processing about 2200 pounds of food each month. One shelving unit holds non-food items on the bottom shelf and guests are free to choose an item from the bins on that shelf. A child can choose a book to take home, or a parent might find a needed item among the goods there. Due to the layout of the shelves, however, it wasn't clear if food on the shelf above was free for the taking as well. We hung an old sheet on the top portion of the shelving unit. It served its purpose but it looked horrible. Since it was at the door to the pantry, it wasn't very welcoming.
Handy Jack to the rescue!
Jack, who has done several improvement projects for us, made a wonderful item for the pantry. He created a custom pegboard to hang on the shelving unit. Now, the shelf has a back, so boxes of cereal can't fall off the back of the shelf. Most important, it's clear that the treasure trove of items for browsing and taking are differentiated from the food stuffs on the same shelving unit. Best of all, the peg board means we can hang items on what has become a welcome sign.
We are already planning out recipes and resources for the new addition to the food pantry. Not only has Jack's gift solved a logistical problem, it spruced up the space and designated the doorway to the pantry as a welcoming entryway.
Are you interested in volunteering? Your talents may not be as unique as Jack's, but that doesn't mean you can't make a difference. If you'd like to learn more about the volunteer opportunities and expectations of volunteers at Unity House, please call our Volunteer Desk at Unity House: (518) 274-2607 x4135. We host volunteer information sessions monthly. Check our calendar or Facebook page for dates and times.
Many thanks to Jack and volunteers everywhere. We hope you know how much you are appreciated!