Unity House Chosen for Month of December
The Wynantskill Hannaford has chosen Unity House as the charity for the month of December. This means for every Fight Hunger bag sold, Unity House will receive one dollar.
The bags are part of the "Hannaford Helps" Reusable Bag Program. There are two versions of the bag: the beige bag is being phased out but you may still see it in the store. The darker brown bag is the newer version. Buying either bag- or both!-will help Unity House.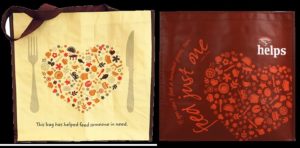 Many thanks to Hannaford for all they do!