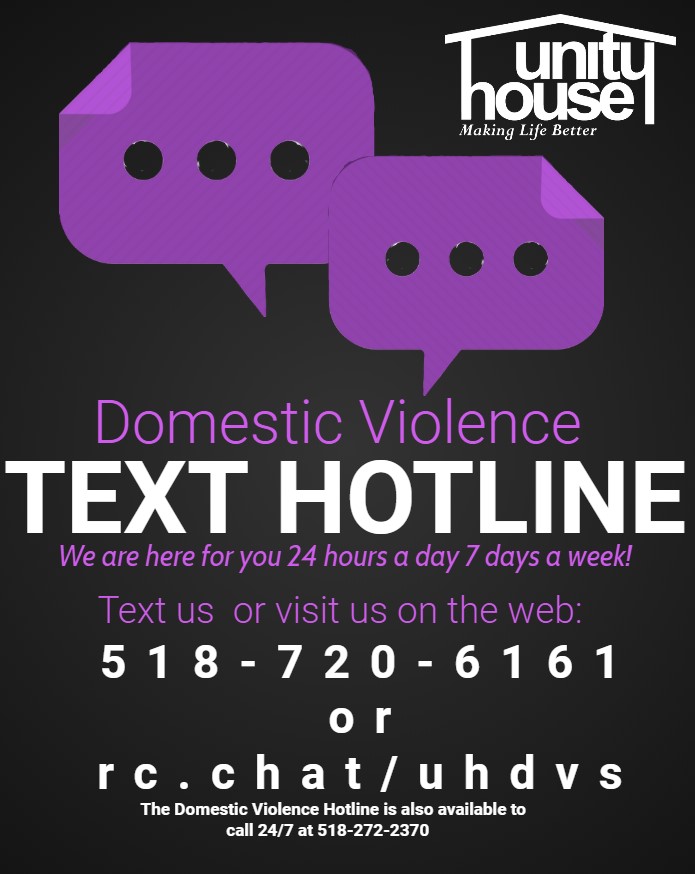 Hotlines Save Lives
No doubt you are already familiar with Unity House's 24 Hour Hotline for victims of domestic violence. People or their loved ones with questions about domestic violence can call the hotline at any time for help with dating or domestic abuse. In the decades the hotline has been available, it's been a lifeline to countless people in need who have called for help. It is often the first of many steps for people transforming from victim to survivor.
To reach Unity House support professionals via text: (518) 720-6161
Or use web chat online:  rc.chat/uhdvs
Of course, the telephone hotline is always available: (518) 272-2370
Changing technology
With the advent of cell phones, lots of communication happens on hand-held devices such as smartphones. For outreach and support, Unity House now offers a text hotline for those who need help. A web chat feature is available for instances where texting is cost-prohibitive, as is the case where a person has limited data on their phone plan. Users only need WiFi to start chatting with a network of support.
Hotlines, whether by phone, web chat, or text are an important resource. They help victims understand their rights and options, and make the choices that will best support their recovery. These lines of communication are important tools in connecting victims, survivors, and their support networks with local resources like Unity House's Domestic Violence Services Program.
How You Can Help
Awareness is important. Please share these community resources with people and places where they can do the most good. If you would like a speaker to chat with your teen group, book club, or office about the topic of domestic violence and how our community can best address this important issue, please contact us. We are happy to prepare materials or Zoom in for an online meeting.
Finally, if you or your group would like to volunteer with Unity House's Domestic Violence Services Program, please contact our Volunteer Desk for more information on conducting drives, clean-ups, or helping with deliveries. You can leave a message for our Volunteer Coordinator at (518) 274-2607 x 4139.