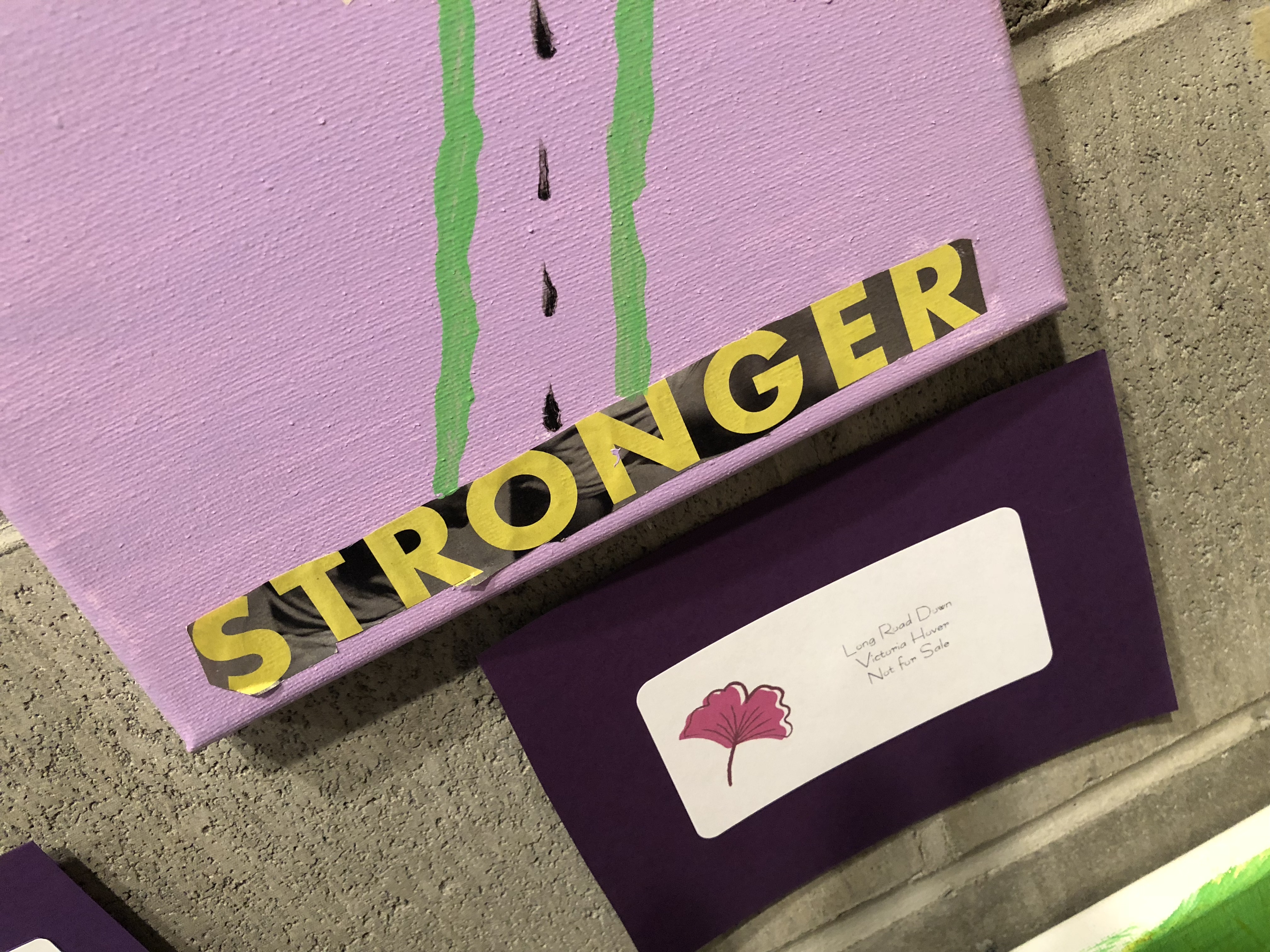 A showcase of creativity from those touched by domestic and dating abuse.
Held at the Chapel + Cultural Center on Burdett Avenue in Troy, this free event raised awareness, showcased impressive artwork, and provided an opportunity to recognize two very special community collaborators: STEM Running Program will receive the Volunteer Leadership Award and the Rensselaer County Probation Department will receive the Coordinated Community Response Award.
The evening also included a candlelight vigil to honor those whose lives were lost to domestic violence. On display were life-sized silhouettes of local victims of domestic violence. These women, and in one case their unborn child, died at the hands of their batterers. The silhouettes, in various poses each had a shield that told the story of the tragedy. The silhouettes were generously made by a local craftsman. The shields were affixed by the Friends and Family of Liza Ellen Warner Association, Inc.
There were many local officials in attendance and a special speaker was Gwen Wright of the NYS Office for the Prevention of Domestic Violence. Ms. Wright commended the hard work of the Unity House program and spoke to its effectiveness and highlighted in her remarks how the program was recently awarded critical grant funding for NY State to help with the most serious cases of domestic violence, working to reduce fatality and save lives.
Honored with the Volunteer Leadership Award was STEM:  Strong Through Every Mile (STEM). STEM is a couch-to-5K program that empowers survivors of domestic abuse through the sport of running. What started in August of 2013 with five participants and two Unity House case managers, resulted in people reaching their first 5K finish line. Since then STEM has grown to an official 501(c)(3) that has worked with well over 100 survivors throughout the Capital Region.
An integral part of STEM is Jennifer Gish. Starting STEM as a grassroots project, Jennifer worked to develop the program because she understood how powerful running can be as a tool for healing trauma. STEM's mission is simple: empowerment through the sport of running.
Jennifer Gish has educated and trained a large group of dynamic, compassionate and dedicated volunteers to support STEM runners, literally, every step of the way. She has long been an advocate for survivors of domestic violence. First as a features reporter for the Albany Times Union, where she wrote about many topics. As a sports writer, she never failed to hold batterers and the media accountable for dating and domestic abuse. She helped shed light on the issue of domestic violence and the needs of victims. Now working in the private sector, Jennifer continues to be an impassioned advocate for people in need.
Honored with the Coordinated Community Response Award was the Rensselaer County Probation Department. The mission of the probation department is to enhance community safety, reduce crime, and assist the victims of crime through offender accountability and rehabilitation. In this regard, the Rensselaer County Probation Department is a true community collaborator.
Kelly Miazga, as a domestic violence liaison and supervisor within the department, works closely with agencies that help meet the needs of victims of domestic violence. In her years of working with Unity House's Domestic Violence Services program, Kelly has shown great care and compassion in her role. A skilled collaborator, she goes above and beyond to help keep victims safe and works to advocate within the department for greater understanding of the complex issue of domestic violence.
Through funding received as part of grant that addresses those victims of domestic violence at particularly high risk, Unity House has been able to work closely with law-enforcement, the justice system, and the probation department in particular. In this regard, Kelly and her colleagues have proven to be an invaluable part of the coordinated community response needed to address the epidemic of domestic violence in our community.
The evening was a wonderful event. Unity House wishes to thank our hosts, the Chapel + Cultural Center, the artists and volunteers who helped put the show together, and our honorees who do so much to help make a difference.
A reminder that help for domestic violence is always available at the 24 hour DV hotline: (518) 272-2370.