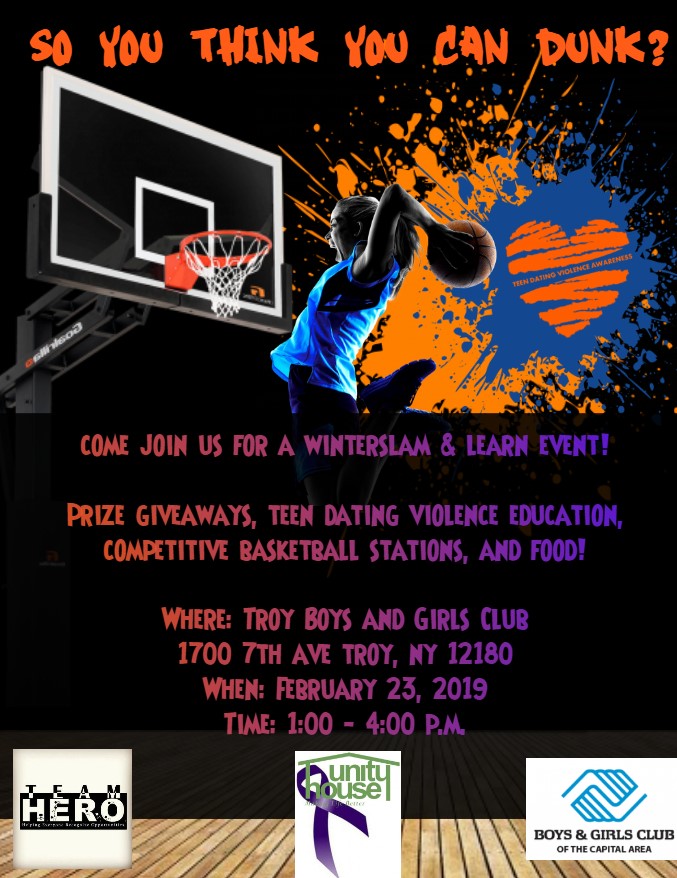 February Marked Teen Dating Violence Awareness and Prevention Month
Teens from around the area had a great time at the February 23rd event at the Troy Boys and Girls Club. An event made possible through the team work of Unity House's Domestic Violence Services program, TeamHERO, and the Boys and Girls Club, it was called "So you think you can dunk?"
Teens and tweens of all ages had a great time at basketball stations, information tables and community outreach spots. It was teen-oriented and addressed topics pertaining to healthy relationships in a fun and relaxed atmosphere.
The event capped off weeks of workshops, outreach and advocacy around the issue of Teen Dating Violence and Prevention. Many teens and adults came out on Saturday, both to learn about the issue and to support efforts to raise awareness. The event also coincided with the launch of the program's dedicated Instagram page, @unityhouse_dv, created specifically to better engage youth around the issue of Teen DV and Dating Abuse.
Many thanks to TeamHERO and the Troy Boys and Girls Club for hosting the festivities.
For more information on domestic violence in teens and adults, including a speaker for your youth group, please contact the Unity House Domestic Violence Services program at (518) 272-5917. To find them on Instagram, click here.