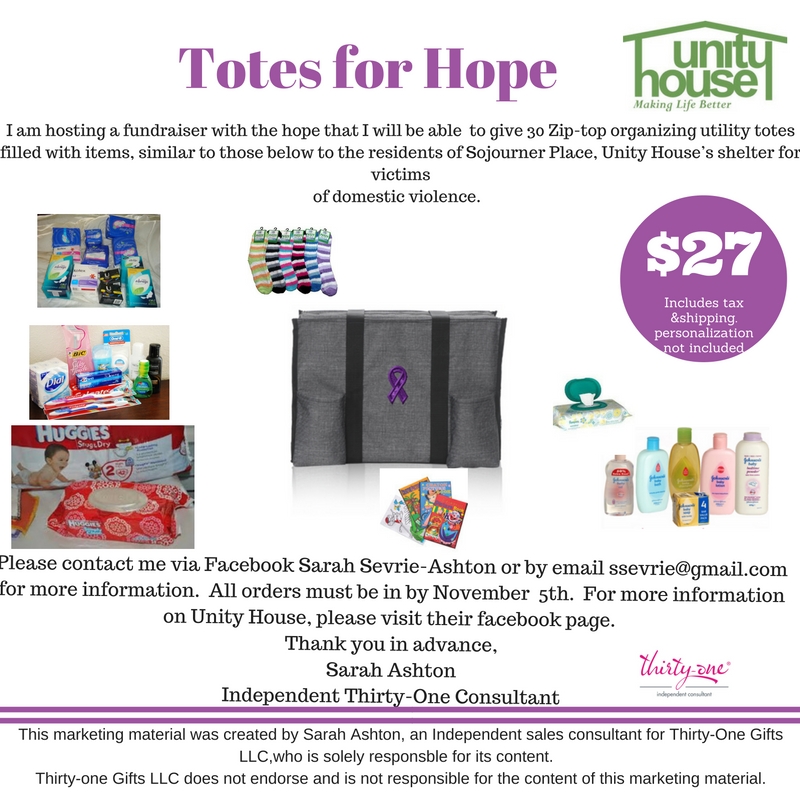 We got a call the other day. A young woman wanted to do a personal fundraiser for Sojourner Place, Unity House's shelter for victims of domestic violence. Our shelter is a 33 bed facility that is always at capacity. Victims and survivors who can't be housed there work with our advocates to find safe arrangements, including shelter in surrounding counties. You can imagine the challenges in meeting the needs of domestic violence victims; housing is just one significant piece of the puzzle.
So back to this phone call: October is Domestic Violence awareness month and this young woman explains she wants to personally organize a fundraiser to donate tote bags filled with personal care items for residents at Sojourner Place. We were grateful since it's always nice when someone reaches out to offer support. It turns out she has an at-home business selling Thirty One products. You may have seen these canvas bags and baskets in use at farmer's markets or at children's sports games. They are great for organizing the stuff of busy people on the go.
We had a nice conversation, talking about the most needed items such as diapers, tampons, soap, and shampoo. Of course, residents also need items like twin sized sheet sets, blankets, towels and pillows. Many guests need to take those items from the shelter when they move on to a fresh start. Our new friend had some great ideas to promote her fundraiser, including a great flyer. Folks who want to buy a "Tote of Hope"filled with goodies need to contact her directly about making the purchase, since the tote bag at that promotional price can't be found on the website. She'll be using what would be her commission to purchase the personal care items that will go in the bags.
Here's the thing: we were touched that someone who 'got it' reached out to offer support in a personal way. But we were floored when we learned why she understood the needs of victims of domestic violence living in a shelter. Turns out she had seen domestic violence in the home. As a child, her home life was not ideal. Things were not always easy. Or even safe. So her mother sought help.
The reason she so intimately understood the issue and what it's like to live temporarily in a shelter while you cobble together a fresh start was because she had lived in our shelter once herself. As a child, she lived in Unity House's shelter – at that time, a crowded house -while her mother sought refuge for her family.
It felt like one of those full circle moments. She talked about paying it forward and how her family had once benefited from Unity House services. What started out as a nice phone call had us melting into a puddle. It felt like we were meant to connect again.
We invited her to our upcoming Domestic Violence Awareness Event and Art Show. The event is about promoting awareness of the issue of domestic violence, showcasing some amazing art from survivors in our program and honoring the community collaboration that is so vital in addressing the issue. It seems right that a survivor who once called our shelter home is coming back to join us. We can't wait to meet her in person and say thank you.
For more information on the Unity House Domestic Violence Services program, including our free event on October 19th, please call the Unity House Development Office at (518) 274-2607, x4133.
To purchase a Totes for Hope tote bag of personal care items that will be donated to Sojourner Place, please contact our new favorite independent Thirty One Consultant directly at:
Sarah
518-779-2882
ssevrie@gmail.com
Please tell her we sent you and we say thanks!