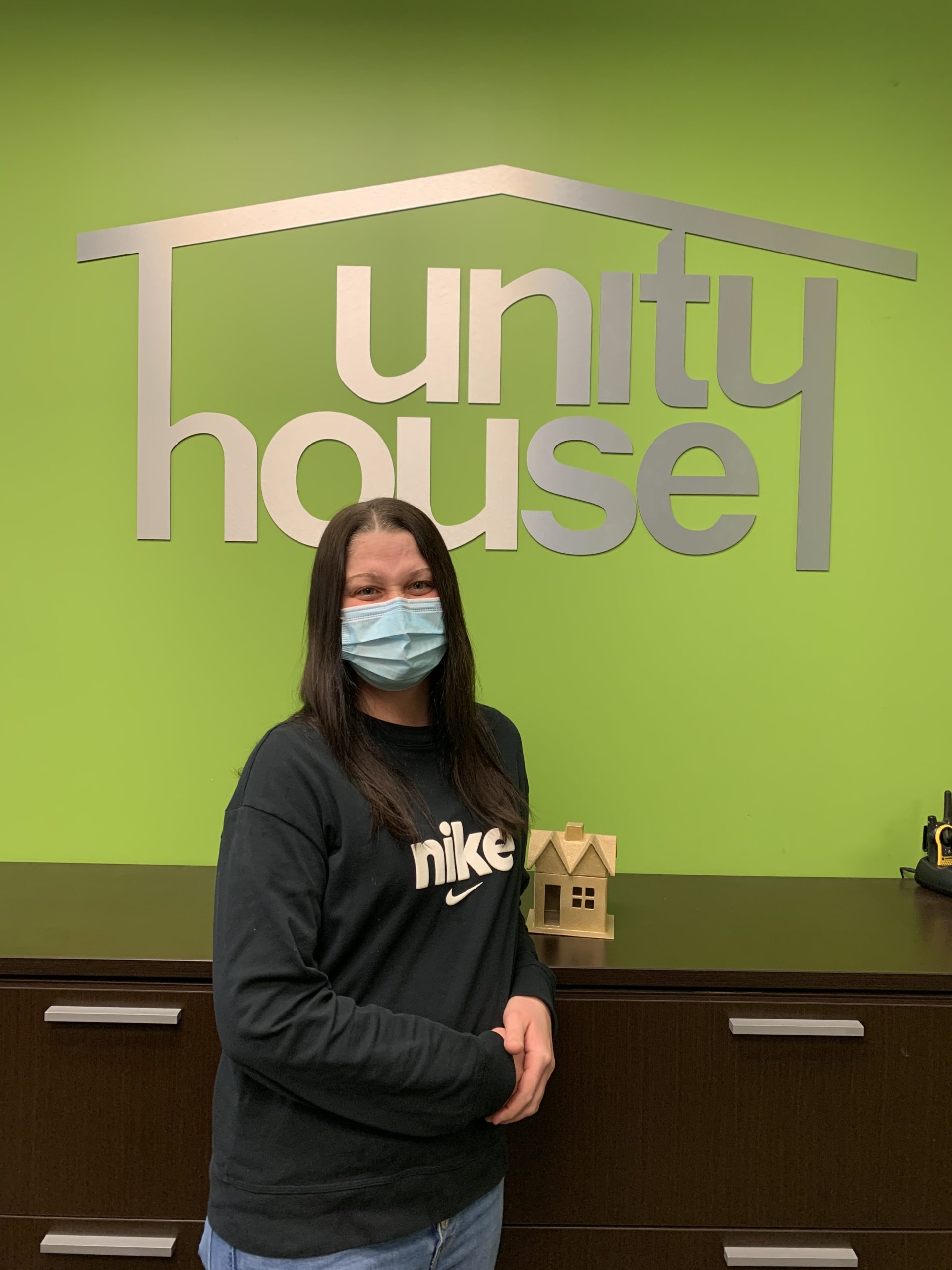 People who help make life better
Kristy Deegan first came to work at Unity House in 2005, when she started at A Child's Place at Unity House. In a short period of time, she had cooked at both the Troy and Albany locations, no easy feat since there are strict schedules and nutrition requirements in this program that serves children ages 6 weeks to 5 years.
Kristy became known for efficient kitchen skills along with her admirable work ethic. When Sojourner Place, Unity House's shelter for victims of domestic violence, needed help in their kitchen, Kristy stepped up and started cooking in the secure, undisclosed location. It meant more meals to a more varied population as the 33 bed shelter hosts a range of guests of all ages. The shelter is never empty.
It was at Unity House's Front Door, our community resource center at 2431 6th Avenue in Troy, where Kristy took on a more client-facing role. The food pantry at the front door is a busy place and the kitchen serves lunch every weekday in a bustling dining room. The open kitchen seems to be in constant motion. In many ways, the food – served free to all who come for a meal- is a gateway to some of the human services on offer at Unity House. Kristy, along with colleagues and volunteers, would help serve sometimes as many as 200 meals at a time.
Then the pandemic started, and everything changed. Unity House never closed but we did have to change service delivery. Suddenly, our dining room could not be a welcoming space for guests to dine indoors. The kitchen crew shifted to grab 'n go meals for guests. People can grab a meal while visiting Unity House for another purpose, while visiting the food pantry, for example. Some people come solely for the meal. It is a sobering thought when you realize that, for some of our guests, the meal they take away from Unity House may be the best nutrition they will receive that day. Our guests include individuals, the elderly, and families with young children.
At Unity House we have seen an increase in food insecurity, and we see people coming to us in need who have never before experienced a shortfall. For this reason, our food programs are lifelines for people in need.
Serving meals at our Front Door involves more interaction with people – Kristy has gone from cooking for toddlers to serving people who sometimes where their struggle on their sleeve. Kristy treats each guest with dignity and compassion. And she's gotten to know them. Kristy knows who might need an extra meal to go late on a Friday afternoon. She listens because sometimes the patience and understanding we offer is a valuable gift, especially for those who may not always feel heard or seen. One of the things Kristy enjoys about working at Unity House's main location is the hustle and bustle: despite some of the serious issues people face, it's generally a happy place. She works with a great crew of staff, wonderful volunteers, and has gotten to know the 'regulars'.
All you need to know about Kristy can be summed up in the fact that she insisted on working on Thanksgiving. Instead of being with her family, Kristy was in the kitchen at Sojourner Place, cooking turkey and all the side dishes. After a blown pilot light last year delayed the meal by hours, Kristy would not leave this important work to anyone else. She wanted those residing in the shelter to know they are cared for and to enjoy a full Thanksgiving feast, hot and on time.
Look for Kristy if you ever stop by for a meal at Unity House- all are welcome! Kristy will be among those offering food with a smile, or cooking, or cleaning, or serving guests in the food pantry…. or any number of the jobs she takes on. Thank you, Kristy, for everything you do to help make life better for the people we serve!
About food programs at Unity House
Food insecurity is a chief driver of people who come to Unity House in need. People often need to make painful spending trade-offs, like paying the utilities or buying groceries. Many of those who utilize a food pantry or community meal are employed and could be considered 'working poor.' If you would like to help address food insecurity, consider a donation in support of Unity House food programs, a gift of non-perishables to pantry shelves, or consider volunteering.