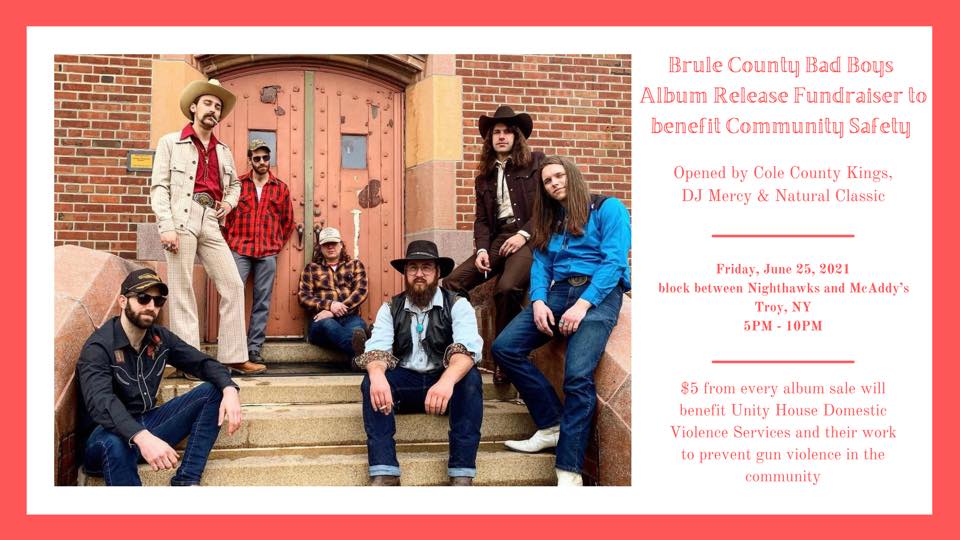 Outdoors, near Unity House's 504 Broadway office in downtown Troy, join us for a fundraiser to benefit community safety. It's Troy Night Out so lots of great stuff will be happening.
The Brule County Bad Boys band will be debuting their new album, with the help of Cole City Kings, DJ Mercy, and Natural Classic.
There will be a raffle and $5 from each album sold will benefit Unity House's Domestic Violence Services program's work to preventing and responding to gun violence in our community.
About Gun Violence as a Public Health issue:
Gun violence, in particular how it intersects with domestic abuse, is a serious problem. In cases where a victim's abuser has access to a firearm, a victim is at much greater risk for death at the hands of their abuser. Guns are not just dangerous, they can be catastrophic when used against people. You can read more about the topic here.
Unity House's domestic violence services program follows a collaborative community approach to address the issue of domestic violence. Their services are free, voluntary, and confidential. When it comes to gun safety, they believe in evidence-based solutions that have saving lives as the ultimate goal.
Reminder: if you or someone you know is experiencing domestic violence, help is always available.