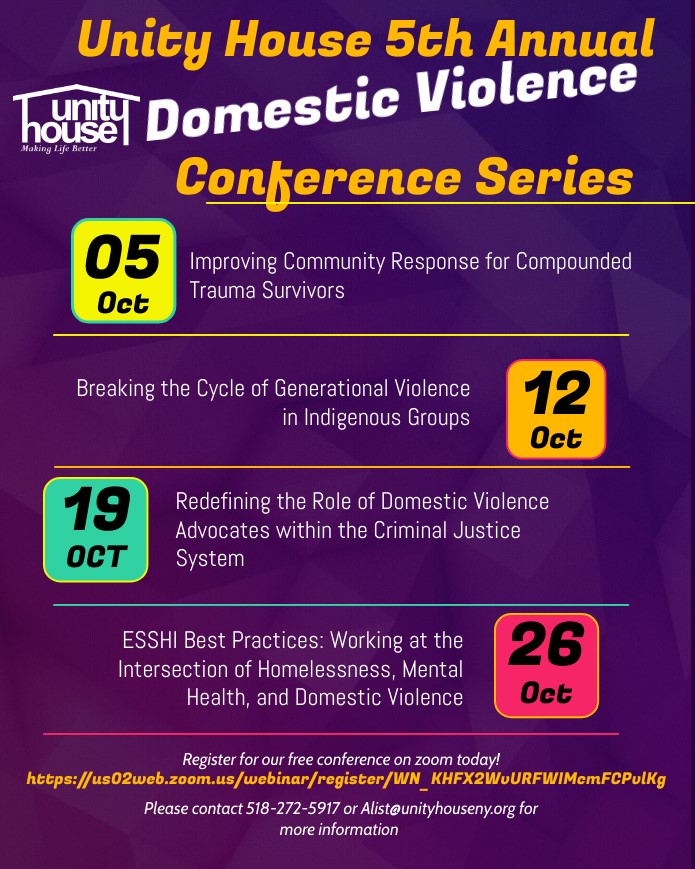 Fifth Annual Conference for Awareness & Prevention: A Web-Based Series
The conference is free and all are invited to participate in weekly, interactive webinars held during the month of October, which marks Domestic Violence Awareness & Prevention Month.
Dates and Topics:
Thursday, October 5: Improving Community Response for Compounded Trauma Survivors
Thursday, October 12: Breaking the Cycle of Generational Violence in Indigenous Groups
Thursday, October 19: Redefining the Role of Domestic Violence Advocates within the Criminal Justice System
Thursday, October 26: ESSHI Best Practices: Working at the Intersection of Homelessness, Mental Health, and Domestic Violence
Purple is the signature color of domestic violence awareness.
Q: Did you know that Unity House's Domestic Violence Services Program can be found on Instagram? Check them out at unityhouse_dv for information and resources.
For questions or more information, please contact Sarah McGaughnea at SMcGaughnea@UnityHouseNY.org
About Unity House's Domestic Violence Services Program:
The program offers safe space to all victims of domestic violence. The aim of the conference is to bring awareness to the issue of domestic violence and highlight the resources available when addressing the issue, discuss the needs of survivors, and promote the community collaborations needed to end domestic violence.
Those interested in participating in the conference as a provider or community collaborator can contact Unity House's Sarah McGaughnea at (518) 274-2607.
Tickets for this free event are required and can be found at the registration link.
A reminder that help is always available.