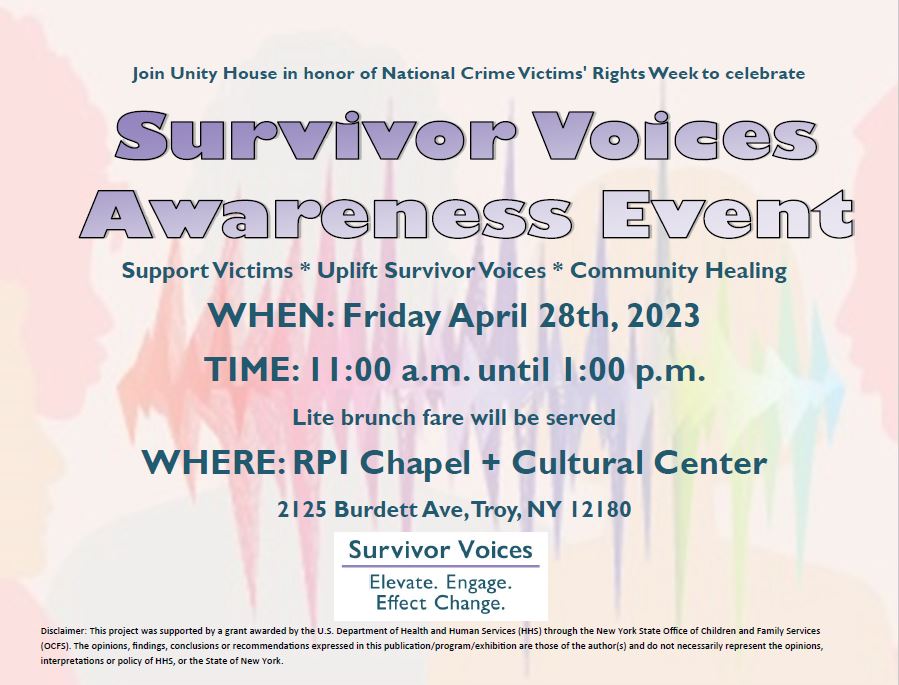 Please join us at the RPI Chapel + Cultural Center for Survivor Voices Awareness Event
This event is to support victims, uplift survivor voices, and offer community healing
When: Friday, Aprtil 28th, 2023
Time:  11:00 am to 100 pm
Where: RPI Chapel + Cultural Center at 2125 Burdett Avenue in Troy, NY
Lite brunch fare will be on offer.
This event is hosted by Unity House's Domestic Violence Services Program and related teams dedicated to supporting crime victims, working to end gun violence in intimate partner relationships, supporting victims of human trafficking, and prevention of gun & gang violence in youth ages 11-17 years of age. Funding partners for services include the NYS Office of Children and Family Services and the US Dept. of Justice.
We will hear from speakers, remember those lost, and share resources for our community. Therapists will be on site for anyone activated or re-traumatized.
If you are community partner working to end violence in our community and would like to register for our free event, please reach out: Vivan Bose-Pyn or Amanda Cramer at (518) 272-5917.
Disclaimer: This project was supported by a grant awarded by the US Department of Health and Human Services (HHS) through the New York State Office of Children and Family Services (OCFS). The opinions, findings, conclusions or recommendations expressed in his program are those of the author(s) and do not necessarily represent the opinions, interpretations or policy of HHS, or the State of New York.
About National Crime Victims Rights Week (NCVRW)
NCVRW is April 23-28. It is a time to memorialize victims of violent crime, honor survivors, recognize our partners, and renew our commitment to justice for victims and survivors of violent crime.
Questions about our event or services? Please call Tabitha Dunn, Director of Unity House's Domestic Violence Services Program at (518) 274-2607