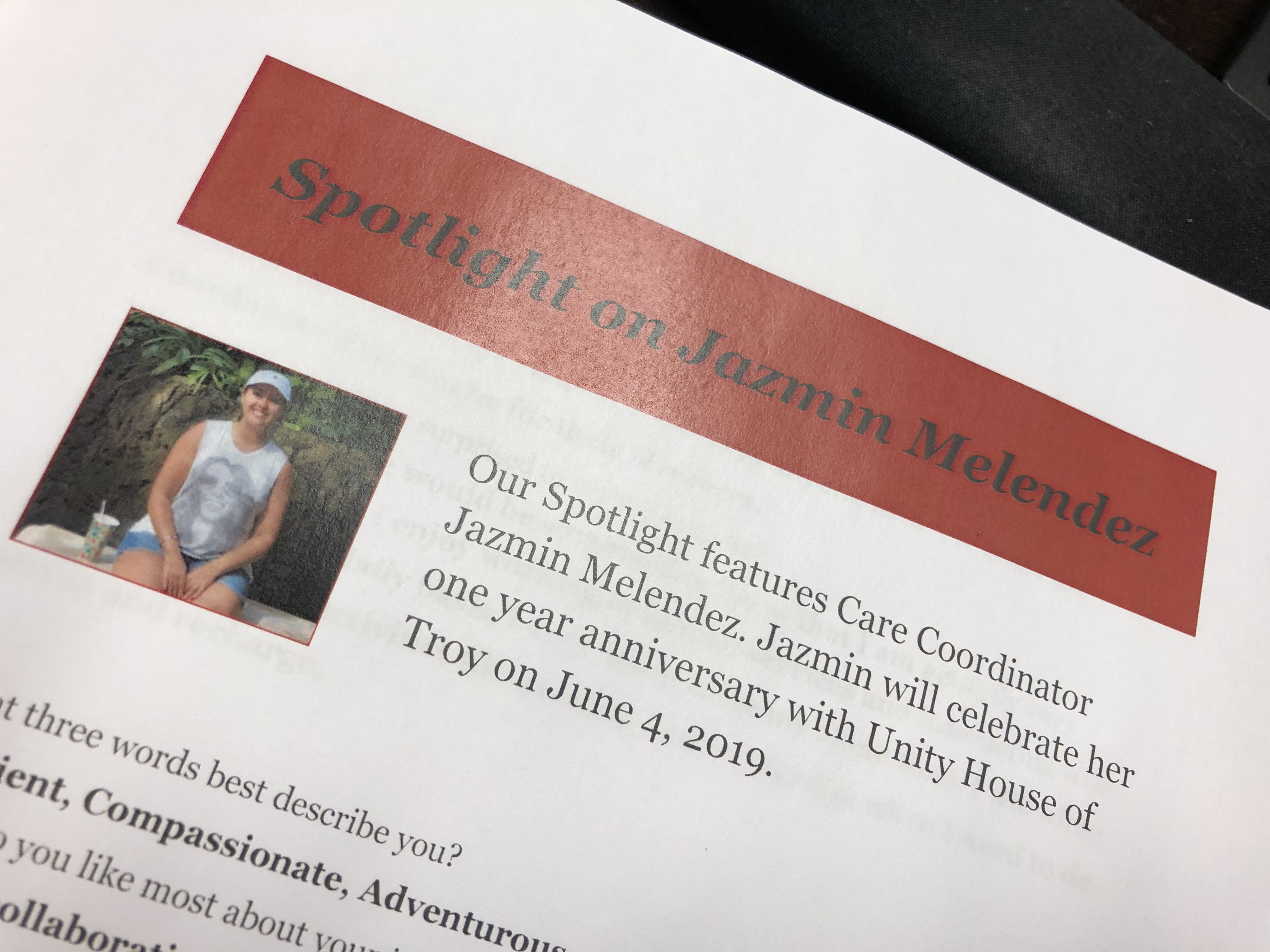 St. Peter's Health Partners Care Connections Newsletter Touts Community Connections
Unity House staffer Jazmin Melendez was recently featured in SPHP's Care Connections Newsletter. Their Spotlight section profiled Jazmin who works as a Care Coordinator in Health Homes at Unity House.
What's a Health Home?
First, it's not a home. But it is home-focused. Health Home programs work to keep people healthy in their homes, reducing high cost visits to settings like emergency rooms by focusing on preventative care. The idea is to help people manage chronic health conditions and things that impact their ability to best manage these conditions, so that they don't end up in an emergency room with a complicated medical issue that might have been avoided. It's all about an ounce of prevention being worth a pound of cure, and making sure folks have access to the kind of wrap-around supports for success. That's where a dynamo like Jazmin steps in.
As a Health Home Care Coordinator at Unity House, Jazmin collaborates with different agencies to meet the needs of her members. She is particularly skilled at building rapport with her members and treating all she meets with respect. This has earned her the trust of many, which she returns in spades. Mutual trust and respect make for successful partnerships, which are key when dealing with complex or intersecting issues. In this way, Jazmin can best help her clients by modeling good advocacy for her members.  She recognizes that there can be many misconceptions about people living with a chronic condition and she works to combat misconceptions through a collaborative approach. Above all, Jazmin lives by her motto of treating everyone with kindness. Jazmin's can-do attitude and health homes goals neatly align with Unity House's core value of treating everyone with compassion and respect so they have dignity and hope.
Congratulations to Jazmin for being featured in SPHP's newsletter and kudos to St. Peter's for touting the care connections in our community that help people in need. We are grateful for the many service professionals who work to ensure success for people enrolled in programs like Health Home.
For more information on the Health Home program, see the below criteria for eligibility or contact Linda Lewis for a confidential conversation at (518) 274-2607.
Active Medicaid
Two or more chronic conditions (e.g., Substance Use Disorder, Asthma, Diabetes*) OR
One single qualifying chronic condition: HIV/AIDS or
Serious Mental Illness (SMI) (Adults)