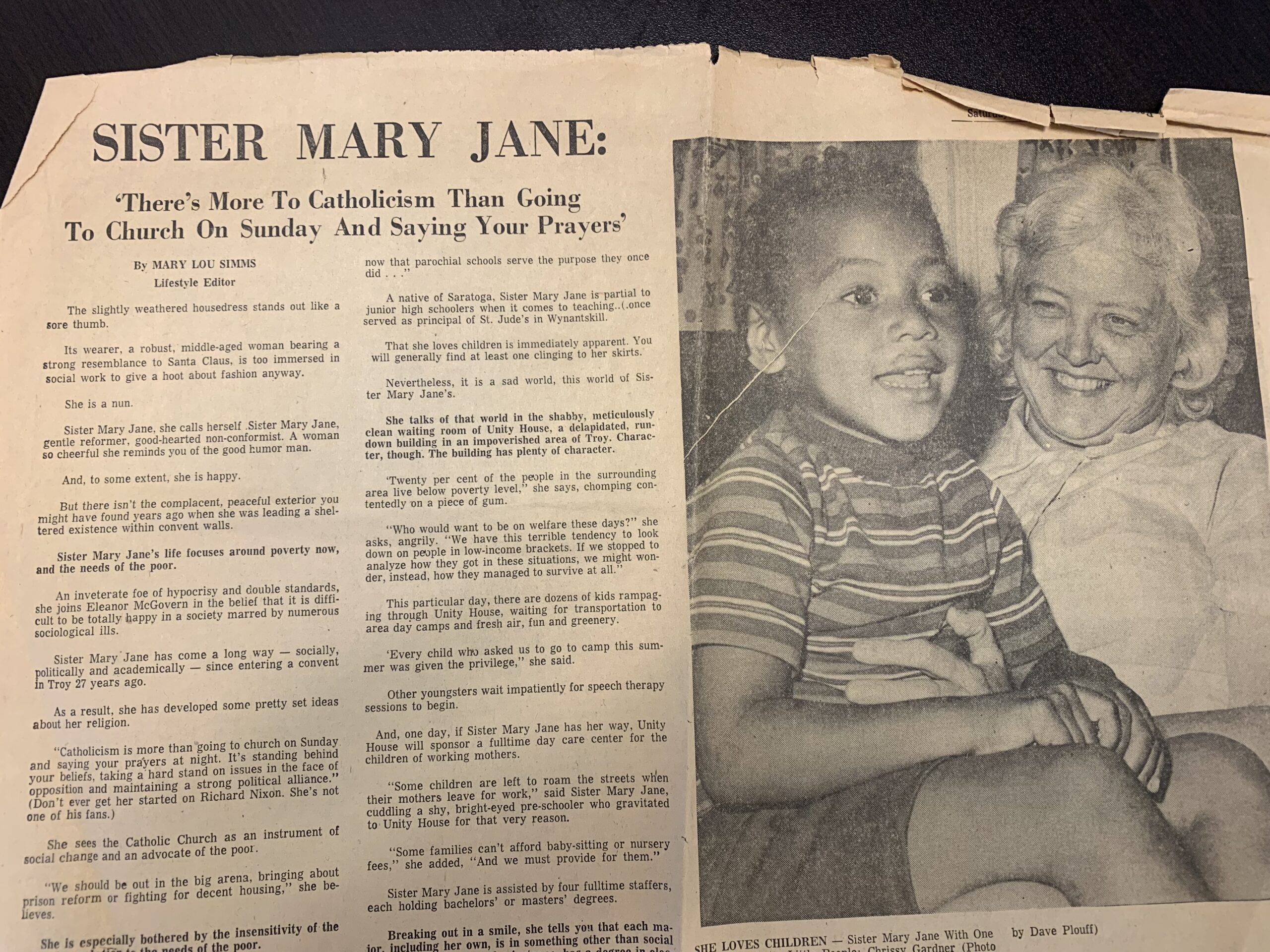 Times Record newspaper article, August 4, 1973
By Mary Lou Sims, Lifestyle Editor
From a 1973 Troy newspaper article we recently discovered: a piece on the late Mary Jane Smith who, along with the late Peter Callagahan and Regis Obijiski, founded Unity House in 1971. This article makes reference to the great needs at the time and how Unity House responded to what people said they needed, like help with children- daycare, camp, and speech therapy. Among Unity House's other services, help for children and families is something we still provide today.
Of note: this article dates from when Mary Jane Smith was a Sister of Saint Joseph. She was eventually dispensed of her vows and went on to marry the love of her life, John Lyons. Today, Unity House is a secular organization. For more on the history of Unity House, consider this annual report, commemorating our 50th anniversary.
Headline: Sister Mary Jane
"There is more to Catholicism than going to church on Sunday and saying your prayers."
The slightly weathered housedress stands out like a sore thumb.
Its wearer a robust, middle-aged woman bearing a strong resemblance to Santa Claus, is too immersed in social work to give a hoot about fashion anyway.
She is a nun.
Sister Mary Jane, she calls herself. Sister Mary Jane, gentle reformer, good-hearted non-conformist. A woman so cheerful she reminds you of the good humor man.
And, to some extent, she is happy.
But there isn't the complacent, peaceful exterior you might have found years ago when she was leading a sheltered existence within convent walls.
Sister Mary Jane's life focuses around poverty now, and the needs of the poor.
An inveterate foe of hypocrisy and double-standards, she joins Eleanor McGovern in the belief that is difficult to be totally happy in a society marred by numerous sociological ills.
Sister May Jane has come a long way – socially, politically, and academically – since entering a convent in Troy 27 years ago.
As a result, she has developed some pretty set ideas about her religion.
"Catholicism is more than going to church on Sunday and saying your prayers at night. It's standing behind your beliefs, taking a hard stand on issues in the face of opposition and maintaining a strong political alliance." (Don't get her started on Richard Nixon. She's not one of his fans.)
She sees the Catholic Church as an instrument of social change and an advocate of the poor.
"We should be out in the big arena, bringing about prison reform or fighting for decent housing" she believes.
She is especially bothered by the insensitivity of the general population to the needs of the poor.
"We have a corporate responsibility to improve the lifestyles of others."
However Sister Mary Jane is thankful for the small army of volunteers and underpaid workers who spend their days at Unity House, a neighborhood center for people with problems. Problems dealing with the very business of survival. Providing therapy for children with speech problems. Finding jobs for men and women with families to support.
Sister Mary Jane was teaching parochial school when the idea for a center struck home.
"I just couldn't teach school and fulfill the needs of a community…" she recalled. "Besides, I'm not so sure now that parochial schools serve the purpose they once did…"
A native of Saratoga, Sister Mary Jane is partial to junior high schoolers when it comes to teaching… (She once served as principal of St. Jude's in Wynantskill.
That she loves children is immediately apparent. You will generally find at least one clinging to her skirts.
Nevertheless, it is a sad world, this world of Sister Mary Jane's.
She tells of that world in the shabby, meticulously clean waiting room of Unity House, a dilapidated, run-down building in an impoverished area of Troy. Character, though. The building has plenty of character.
"Twenty percent of the people in the surrounding area live below the poverty level," she says, chomping on a piece of gum.
"Who want to be on welfare these days?" she asks, angrily. "We have this terrible tendency to look down on people in low-income brackets. If we stopped to analyze how they got in these situations, we might wonder, instead, how they managed to survive at all."
This particularly day, there are dozens of kids rampaging through Unity House, waiting for transportation to area day camps and fresh air, fun, and greenery.
"Every child who asked us to go to camp this summer was given the privilege," she said.
Other youngsters wait patiently for speech therapy to begin.
And, one day, if Sister Mary Jane has her way, a fulltime day care center for the children of working mothers.
"Some children are left to roam the streets when their mothers leave for work," said Sister Mary Jane, cuddling a shy, bright-eyed preschooler who gravitated to Unity House for that very reason.
"Some families can't afford baby-sitting or nursery fees," she added. "And we must proved for them."
Sister Mary Jane is assisted by four full-time staffers, each holding a bachelors' or masters' degrees.
Breaking out in a smile, she tells you that each major, including her own, is in something other than social work. One young man, for instance, has a degree in electrical engineering.
Besides counseling people with psychological and economic problems, Sister Mary Jane is in involved in plenty of odd jobs.
Driving a beat-up, 66 station wagon, one day she delivers two children, the victims of lead poisoning, to Albany Medical Center for treatment.
She has uncovered far too many cases of lead poisoning.
"The housing situation here is disastrous…. Too many rundown apartments…young children eating chips of old, leaded paint. The more serious cases of lead poisoning result in brain damage, even death," she said.
Other times you find her painting and paneling the walls of an old apartment, trying to make it livable for new occupants, or else addressing a youth group on breaking the cycle of poverty.
She only occasionally wears a tiny cross pinned to her collar, as symbol of the Order of St. Josephs, to which she belongs. She just doesn't go in for that sort of thing.
Nearby, she shares a five-bedroom apartment with four other nuns.
Unity House itself is financed almost solely by private donations.
The rugs are worn and some of the furniture is falling apart.
But, there is a sense of splendor within, a splendor derived from comfortable, meaningful relationships with others.
On one of the walls is a saying of Martin Luther King's. A saying which perhaps best reiterates Sister Mary Jane's thoughts on humanity: "We must live together as brothers – or perish together as fools."