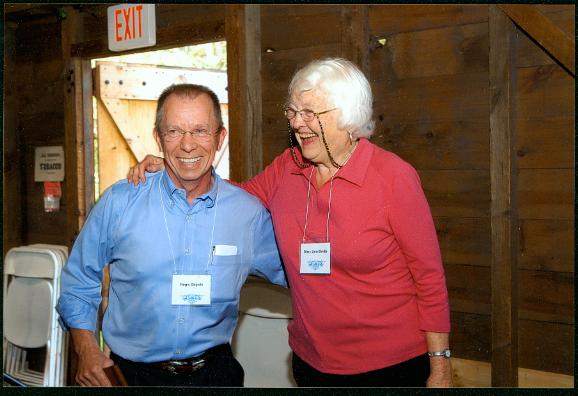 The late Mary Jane Smith (1928- 2017) helped found Unity House in Troy in 1971.
With Regis Obijiski, and the later Peter Callaghan, Mary Jane Smith moved into a low-income neighborhood on 8th Street in Troy to better understand the needs of people living in poverty.
Today, Unity House's programs and services remain true to their roots in that each offering came from a need expressed by people living in poverty. Rather than tell people what they need, Mary Jane, Regis and Peter asked people what they need. From their, the commitment to treating everyone with compassion and respect so they may have dignity and hope was cemented.
After serving as leader of Unity House, Mary Jane Smith retired in 1991 but remained an active volunteer, serving in many capacities right up until the last year of her life. She was often seen serving lunch and eating with guests in the Unity House dining room. Mary Jane was a beloved figure in Unity House and Troy. Her loss in January 2017 was keenly felt by many, including the legions of consumers who were helped by Mary Jane and the services of Unity House.
To honor her legacy, Unity House will celebrate Mary Jane Smith's birthday on May 15th. The day will be one of service in memory of a wonderful friend, mentor, and example of what love in action truly means. Planned activities include lunch prepared and served by the Unity House Board of Directors, many of whom knew Mary Jane for decades; inspiring décor that reflects a lifetime of service in ReStyle, the Unity House store, and staff gatherings across Unity House programs.
Everyone is welcome to drop in at Unity House on Mary Jane Day. Join us for lunch, inquire about volunteer opportunities, shop in ReStyle, or tour the Front Door, where many Unity House programs and services are under one roof. (Truth be told, you can stop in any weekday from 9-4 but MJ Day will be a little different.)
Do you have a special memory of Mary Jane Smith you'd like to share?
Please, contact Diane Cameron Pascone at (518) 274-2607 x4133 or Dcameron@UnityHouseNY.org to share. Unity House will be collecting stories, photos and memories that we'll be sharing online and at our sites.
Can't make it to Unity House on Mary Jane Day?
That's alright. You can honor her legacy by shining your light in the world, offering kindness and empowering change where needed. If anything, the example of Mary Jane Smith and others who commit to helping, is that sometimes it doesn't take much to make a difference and together we can make life better.
If you'd like to make a gift in honor of the legacy of our founders, please visit our donation portal.
On behalf of those we serve, thank you for your support.