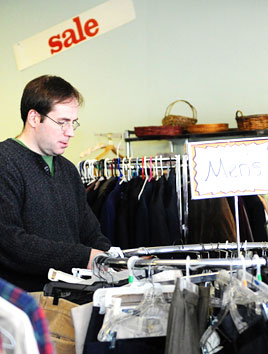 Thrift stores: a valuable community resource
Unfortunately, Unity House's ReStyle is not able to accept donations of gently used clothes, shoes, and accessories.
We simply cannot safely process donations in a time of pandemic. We appreciate that everyone understands the need for safety.
Clothes still available for those who have a need
The store is a valuable resource: someone loses everything in a fire? Kids outgrew their winter coats? A victim of domestic violence had to leave clothing behind on the way to our shelter? We've got them covered. We are able to supply people with needed clothing and accessories from existing stock. For the items we can't obtain from our inventory, we often purchase. That's why donations of gift cards to big box stores or Amazon are always helpful. You can purchase gift cards in any denomination and mail them to Unity House at:
Unity House
2431 6th Ave.
Troy, NY 12180
Possible Summertime Pop Up Shops
We are looking for innovative ways to safely offer a shopping experience for our guests and consumers who would like to browse our inventory. ReStyle has always been about more than just supplying clothes to people in need. The store is also a retail space where our consumers can gain valuable skills through supported employment or volunteer opportunities. It's a chance to recycle items and keep trash out of landfills. The store also offers a shopping experience for people in need who cannot shop elsewhere. That dignity of choice- choosing appropriate clothing for your needs and tastes- is valuable. It means more than just handing someone a pre-packaged bag of clothing that may or may not work for them. That's one reason why we provided gift cards for people who need to shop at the store: they can pick out what they most need and 'pay' for it with a gift card we have provided.
As such, we hope to be able to offer merchandise outdoors on certain occasions. You can stay up to date by following the Unity House Facebook page. It's important to note that even if we are able to offer a shopping day, we still cannot accept clothing donations.
About donated clothes
Many have experienced the thrill of finding a clothing treasure at the thrift store. Maybe it's a shirt in your favorite color, a brand that is normally out of your price range, or just the right outfit for your child. We appreciate these treasures as much as the next person, but not all donations to the store are gems. For example, among the gently used items we often find clothing we cannot use: clothing that is stained, too worn, or stretched out are not wanted or needed. These must be sorted and recycled. It adds to the workload and incurs a cost to process. You can read more about 'fast fashion' and the life cycle of clothing in this fascinating read. While dated, the writer shares some updated links at the end of the article that are more current and address specific types of clothing.
Ask questions
If you have found an organization that will accept your donation of gently used clothes, shoes, and accessories, consider asking what they need. Will they take only clothes that are in season? Stores often don't have a lot of storage space so donating winter coats in the summer can create problems. Are there specific items that are in greater demand, like children's shoes? Is there a limit to how much they can handle at once? Clothing drives where groups collect a mountain of clothes can create more work than benefit. Do they need career clothes or are the beneficiaries more in need of everyday wear? That lovely men's suit might not be needed at your local thrift store.
On behalf of those we serve, thank you for considering how best to handle your donation of clothes, shoes, and accessories.