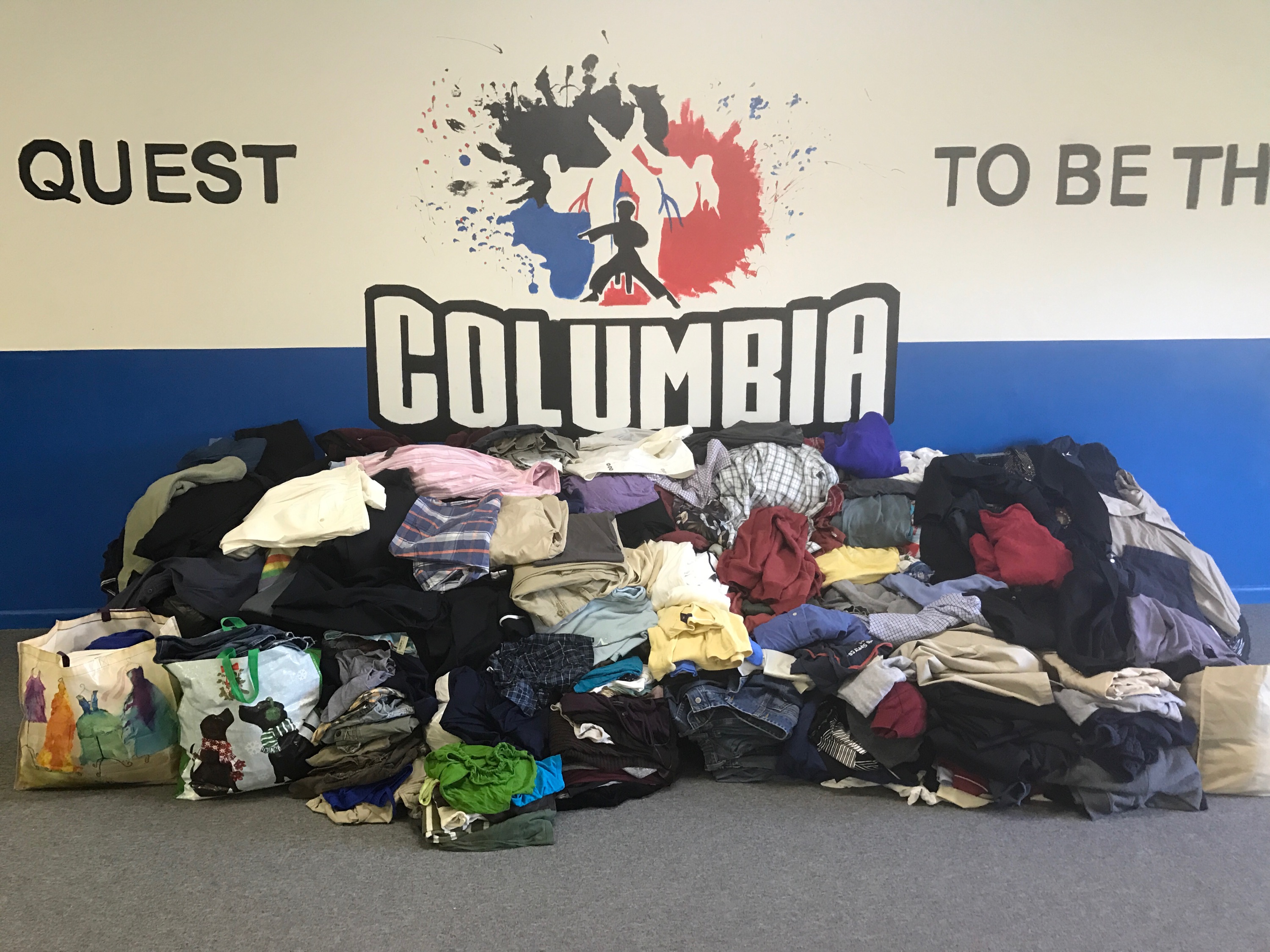 Columbia High School Student on a Mission
Shruti Kamat, a 15-year-old student at Columba High School is working toward her black belt in Tae Kwon Do, the culmination of a 5-year journey with Columbia Tae Kwon Do in Rensselaer. It takes years of training and practice to achieve black belt status. Along the way, students learn skills such as concentration, focus, self-respect, and fitness. In Ms. Kamat's case, the work also involves a community service component, a requirement of her Dojo before she can test for her black belt.
Ms. Kamat chose to focus on Unity House and the needs of people living in poverty. To that end, she organized a clothing drive for her community service project. Over the course of four weeks, she collected donations of gently used clothes from families and guests at Columbia Tae Kwon Do on Columbia Turnpike. Unity House will sort the clothes and make the items available to people in need. Some of the clothing will go to the Career Closet, for those returning to the workforce and need an interview-ready outfit. Infant and toddler clothing will go to our Baby Room for new parents. The rest of the clothes will go to ReStyle, the Unity House store that sells gently used clothes, shoes, and accessories.
About ReStyle
ReStyle is the Unity House store located at 2431 Sixth Avenue that focuses on re-using and recycling. It's a place where shoppers can find clothes for all occasions. The store has a dedicated manager, is staffed by volunteers, and takes pride in offering a true retail experience. Only quality clothes that can be re-worn make it to the ReStyle sales floor. The clothes in ReStyle are priced to sell. There are special racks for displaying items with trendy brand names or unique pieces. The store, open weekdays, attracts a broad range of shoppers. Those who have an urgent need for clothing can receive a voucher from Unity House. In this way, shoppers can pick out and try on what best suits their needs and taste. It is important that people have the dignity of choice and clothes are not wasted by being handed out regardless of preference or taste. ReStyle works on the belief that quality items equate to dignity for people in need. For this reason, the store cannot accept clothing that is stained, has holes, too worn, or with broken zippers, etc.  As a guideline, the store encourages those who wish to donate their clothing to consider if they would loan or give the item to a friend. Items that don't meet this criteria can be recycled.
Thankful
Unity House is grateful to youth like Ms. Kamat for their caring generosity. Through her service project, she has not only learned for herself about needs in the community, she has collected needed items for re-use and has also helped raise awareness of the needs of people living in poverty. Many thanks to Ms. Kamat and to all who donated gently-used clothing to make this project a success. We wish Ms. Kamat well on her Black Belt test, one we are sure she'll pass with flying colors.
Are you interested in taking on a service project or volunteering for Unity House? If so, contact the Unity House Development Office at: (518) 274-2607 ext. 4133 or Volunteer@UnityHouseNY.org. Or consider Making a Gift to support Unity House services and programs. On behalf of those we serve, Thank You.