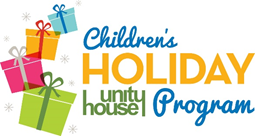 Annual holiday program helps over 1,500 children across Unity House programs
There are toys, games, balls, books, boots, blankets, and jammies. With the help of many generous elves, Unity House's Children's Holiday Program helps children in need have a magical holiday.
There are several ways to get involved: buys gifts or host a toy drive in your circle and donate toys and necessities to the program, make a donation or donate gift cards, or 'adopt' a child who has made a wish list with help. The program reaches children living in our shelter for victims of domestic violence, those served in our pantry, and housing programs, as well as last-minute emergency needs. Unity House is grateful that, with the help of many hands, we are able to offer this program to families in need.
It's important that donated toys and gifts be new and unwrapped so parents can see what their child is receiving. Parents and case workers are involved. In this way, children are more likely to receive something they truly want and need.
If you would like more information about the children's holiday program, including volunteering, please reach out to Mandy Brown at (518) 274-2607. Want to learn more? You can read about Mandy's work in this Employee Spotlight.