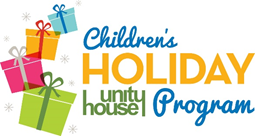 1,700 children across Unity House programs will need help this holiday season
Toys! Games! Balls! With the help of many generous elves, Unity House's Children's Holiday Program, once called Adopt a Family, helps put the magic in the holiday season for children of all ages. It's a huge undertaking that involves staff, families, volunteers, and local businesses large and small.
The obvious appeal for those who help is the gratification from helping children. But the other aspect is the easy ways to help out: with a Wish List in hand supporters either shopped for specific children, donated new toys or gift cards, or made a donation to Unity House's Children's Holiday Program Fund.
Pandemic Changes Everything
You know that this year has been tough on everyone, but especially for parents who were already living on the edge. Across the board, we've seen greater demand for help, and we are seeing many first-timers who have never before had to reach out. In response, we have changed the way we operate, ensuring safe spaces for our staff, guests, and the people we serve. With that in mind, we are asking for help in serving children this holiday season.
How Things Will Work This Year
If you have helped out in the past shopping for new toys for children, you can still do so. We can arrange for curbside drop-off/pick-up of your donation.
Want to avoid the stores? Consider shopping online and have items shipped direct to Unity House. You can even consult our Wish Lists at Target, Walmart, or Amazon. Please know that whatever new toy or gift you donate, we will gratefully accept it. You will help to make a difference to a child in need.
Want a Wish List? We have some Wish Lists and you can still 'adopt' a child(ren), if you would like to help that way.  For some programs, instead of sitting down with parents to make a list, wish lists will come via teachers and staff. They have an established connection to the children and know what gifts are needed and will be a success.
You can also check out our Angel Tree here.
If writing a check or making a donation through our website to our Children's Holiday Program are your thing, that's great too. We appreciate all the forms of support for this unique program.
Gift cards to big box stores, Amazon, or local supermarkets and retailers are a help. Our program serves children of all ages. We often experience a shortage of toys for Teens & 'Tweens since many people want to shop for younger children. Gift suggestions for older children include headphones, makeup, and video games. Often, we need to purchase these items late in the season.
Did you know? Gift Cards can be purchased at supermarkets and drugstores.
What about the Holiday Store?
In the past, eligible parents were able to make an appointment to 'shop' in our holiday store. In this way, they could choose new items that they knew their child truly wanted or needed. Due to the need for social distancing, we cannot offer this experience. Instead, we'll have a room where staff 'shop' to find the right gift for a child. It means more work but it's the safest way to operate while still being able to meet the needs of children.
You are making a difference!
Whether it's for children in our shelter, in our daycare programs, in our food pantry, through our housing programs, or children receiving therapy, a staff member will work to get a new toy that the child will enjoy and use. We could not do this without your help. THANK YOU! We appreciate all you do to help fulfill the mission of Unity House.
Getting Started
You can download our Toy Ideas Flyer or check out our Tween_Teen Wish List if you want to get started on your shopping. It's important that donated toys and gifts be new and unwrapped so parents can see what their child is receiving.
Contact us to arrange for curbside drop-off/pickup:
Mandy Brown
(518) 274-2607 x4135
MBrown@UnityHouseNY.org
Our Mailing Address to have items shipped direct:
Unity House
2431 Sixth Ave
Troy, NY 12180
Att: DEV
It is helpful to have gifts, which should be new and unwrapped, in house by Monday, December 14th.
If you would like to volunteer, we will need some help picking up and delivering to different Unity House sites. Please contact our Volunteer Desk at (518) 274-2607 or Volunteer@UnityHouseNY.org for more information.